cat exercise wheel is designed to expend the pent up energy of cats so they will quit doing silly things that would otherwise make you worry. surely, no one likes it when their neighbor come knocking with a dead hamster in his or her hands (with rage, often), right? which is why exercise wheel for cats is pretty darn important. however, they are not cheap and cumbersome – starting from the point when you buy it (huge carton box!) and then there is the assembly part, which we don't even want to go there. with this in mind, Sean Farley came out with his own version, simply called One Fast Cat Exercise Wheel. Sean completely rethinks how a cat wheel should be by employing smart industrial design that allows the wheel to be broken down to small parts, and hence, making it easy to ship.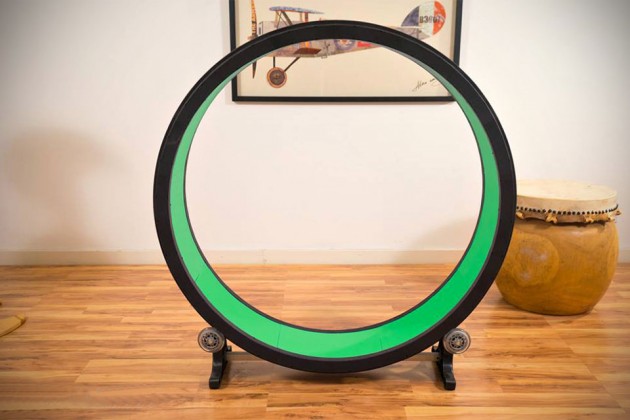 the real kicker here is, putting together this cat wheel requires zero tools. everything is snap together like LEGO to form the generously-sized 48″ diameter cat wheel. the wheel has a wide 10-inch running tread with the run surface made from a closed cell EVA foam to prevent your feline friend's claws from catching to it. though it is a 'snap-together' product, Sean assures that when assembled, the One Fast Cat Exercise Wheel For Cats is totally sturdy and lightweight enough to be moved around. the exercise wheel has a minimalistic aesthetic which will not mar your home decor and it has an open design that allows the cat the freedom of entering from either side. in fact we thought the open design does wonder in terms of aesthetic. it make the whole setup looks less obtrusive which enables it to blend into most decor. if only it could be hooked up to a dynamo to generate electricity…. wait. that would be considered animal abuse, wouldn't it? so never mind.
the One Fast Cat Exercise Wheel For Cats is running a Kickstarter campaign aiming to raise 10 grand for the production. the good news is, it has well surpassed that goal and is nearly $95,000 funded with 17 more days to go. that said, you will be able to pre-order one at a special Kickstarter price of $199 with delivery expected to happen in September 2014.