there are 101 ways to flaunt your wealth like owning a bespoke catamaran and stuff, but being seen riding a Yamaha or perhaps Kawasaki jet ski isn't one of them. that's a serious woe there for the richie rich, but fret not cos' Strand Craft has just the remedy for it and it is called, wait for it… Strand Craft V8 Wet Rod. ok, may be the name is a little, well, cheesy, but it gets the message across, though one thing the namesake did not mention is, it is actually jet ski. not a boat like we are accustom coming from Strand Craft. anyways, the V8 'hot rod' of the open waters is designed to be elegant vehicle and still packs enough grunt to smoke, or should we say kick water, at your competition. you know, it is kind of like the Rolls of the sea, or may a Bentley. think you get the idea.
under the hood is a 300 HP 5.7-liter V8 that propels this 16′ long boat of carbon fiber and epoxy construct to a top speed of 65 mph (56 knots or about 104 km/h). for the uninitiated, 65 is a pretty crazy speed for a watercraft and could turn out to be rather intimidating especially when it is ridden like a bike. speaking of bike, this luxury thing of the sea can, fortunately, seats more than one (at least from the images it appear to be so), which means two things: you can be chauffeured around like a boss (but would you? it's a jet ski, you know?) and two, picking of chicks or mermaids is a possibility. which means Scrooge McDuckians will be right home at the sea as on the land. being a luxury craft, naturally you can expect a host of options available on the menu to coax more money out of you, including stuff like custom trailer, engine dress-up kit, wood or carbon trim kit, GPS navigator, advanced sound system (!) and special custom paint or wrapping.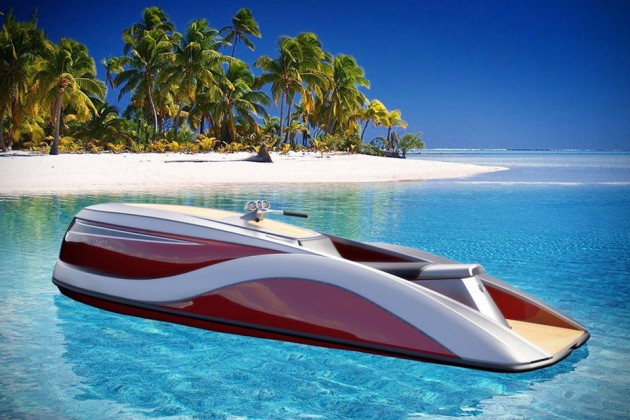 if you choose not to cough up more money for it, rest assure you will still have the same luxury along with standards like ice box under the seat, waterproof luggage compartment and hear the sweet sound of the V8 growl spits out from its dual exhaust outlets. no word on how much it will cost, but you and i already know it is not going to be anywhere near the realm of 'affordable'.