there are many flagship handsets out there vying for your hard earn money, but today, one smartphone emerges, promising to 'kill them all' and that device is none other than the OnePlus One smartphone. a pretty bold and lofty claim to make, but on paper the One (not to be confused with HTC One) seems to have what it takes. well, maybe not a killer per se, but certainly one phone that could be on top of your to-consider list. leading the features is a 5.5-inch Full HD LTPS IPS display with Touch-On-Lens technology that promised instant touch response by reducing the distance between the touch sensor and the display panel, while Corning Gorilla Glass 3 keeps the beautiful display scratch-free. digging further under the skin, you will find a Qualcomm Snapdragon 801 SoC with a 2.5GHz quad-core processor, Adreno 330 GPU and 3GB of RAM.
at this point it is worth mentioning that OnePlus not only takes pride of how the phone look on the outside, but also the inside. the Shenzhen-based upstart went to great length to ensure the inside is just as pretty (in a geeky sense, that is) as the exterior – one such example would be its custom PCB which the meticulously aligned components sit on – it is specially dyed and treated in matte finish – a detail that might please innards lovers. not that we will be tearing it apart every now and then, but it is always good to know that things are not just 'thrash' inside. it also boasts a main shooter serviced by a 13MP Sony Exmor IMX214 sensor, paired to a 6-lens elements, with dual LED flash and does 4K videoing, in addition to 720p slow motion at 120 fps. the front sports a selfie lover-pleasing 5MP item with a wide 80-degree viewing angle. you will also find a set of stereo speakers at the bottom of the device, tri-microphone with noise cancellation (the third mic is said to boost voice clarity as much as 80 percent) and a 'best-in-class' 3,100 mAh battery pack that has "over a full day of usage."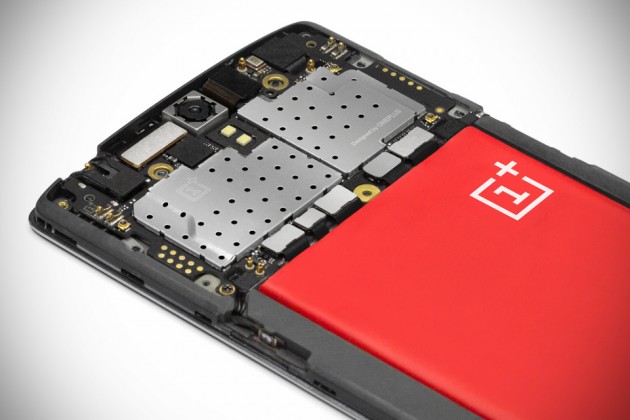 those are pretty much what you expect of from a flagship handset, but OnePlus doesn't stop there. interestingly, it touts a user-selectable keys where you get to choose between capacitive keys or on-screen display keys. there is also a la-LG knock-to-wake up feature which a double tapping action wakes up will wake up the device. additionally, gestures on sleeping screen can also trigger preferred app to launch. not sure how many 'gestures' and apps it will support though. of course, there will be presence of the usual connectivity options including 4G LTE radios, dual-band WiFi, Bluetooth 4.1 and NFC, along with the usual suite of sensors. the device runs on a special brew of the Android-based CyanogenMod, which the firm promised updates for at least two years.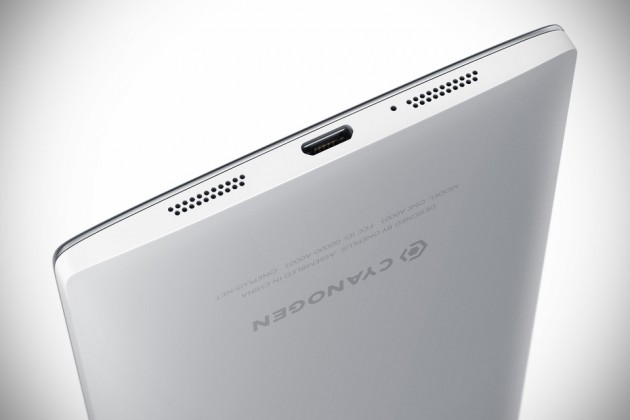 on the hardware aspect, the handset has a 8.9mm thin profile with the tapered edges measuring a mere 4.6mm, and it is surprisingly lightweight too, tipping the scale at just 162 grams (5.71 oz.). the handset is offered in silk white (16GB) and sandstone black (64GB), but there is also a series of StyleSwap exchangeable back cover in a range of materials and textures for those who seeks to depart from the usual black or white offerings. the OnePlus One will be available starting from Q2 for $299 and $349 for the 16GB and 64GB model, respectively.