Golf is a sport that demands constant practice if you want to be on top of the game. When we say 'constant', we do mean hitting the course or the range consistently, which is costly and not to mention the time spent traveling to and fro the club (unless you happen to stay next to your favorite golfing haunt). This is where OptiShot2 Golf Simulator can help. This briefcase-size rig works with Mac or Windows machine to let you practice your game with either real or foam balls, using your very own clubs. Any clubs. But make no mistake. This ain't no kids play. This is a real deal golf simulator (read: not a game), an equivalent to a full-fledge Formula 1 simulator that will let you hone your skills rain or shine, day or night without dropping a dime for green fees. There is a side benefit too, like not needing to clean your clubs each game.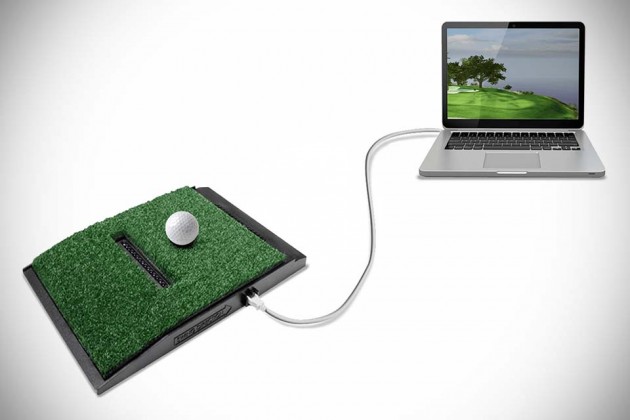 The OptiShot2 Golf Simulator consists of an infrared optical swing pad, packing sixteen precision-tuned, high-speed 48MHz infrared sensors to track your club movement and providing you with real-time feedback on your club head speed, face angle, swing path, distance made, face contact, and even swing tempo and shot shape. Other worthy mentions include OptiShot Golf 3D software in ultra high-definition graphics, play 18 holes from tee-to-green sans the walking or carting, play in a huge selection of world famous courses, option to display on HDTV or projector, play with up to four golfers from around the world, and supports left and right hand play.
Though the package comes with everything you need to start teeing off, you do need your own clubs and a suitably sized indoor area with ample room for swinging. OptiShotNets is recommended too, if you don't want to break anything in the room. And oh, the OptiShot2 Golf Simulator is in its second iteration and that's what you'll be getting for $499.95.