Todd McFarlane is the comic book creator best known for bringing The Amazing Spider-Man and Venom to life. Wait. No. To me McFarlane is the modern legend who gave us the occult anti-hero character, Spawn.
So what about McFarlane? Well, the man has taken to Kickstarter to crowdfund a remastered version of the original 1995 Spawn action figure.
Dubbed the Original Spawn Action Figure & Comic Remastered (2020), McFarlane promised to deliver an updated version of the original action figure and comic with a whole lot of extras to boot.
The rebooted Spawn action figure will significantly larger, at 7 inches tall, over the original (which is 5) and will features an enormous folding cape and weapon. It will offer 20 points of articulation/moving parts which is double of what the original had. Accompanying the figure will be a comic cover redrawn by the man himself.
Since going live on Kickstarter, Original Spawn Action Figure & Comic Remastered (2020) have been receiving floods of love. At the time of this post, the campaign has garnered over 13,000 backers and rolled in more than $1.7 million in funding.
No surprise at all as Spawn has a major following, both in comics and for its collectibles. With $1.7m achieved at this point, McFarlane is throwing in a bunch of goodies, including switching up the chains on Spawn figure to metal build. And that. folks, is freaking awesome.
If you are down, we suggest you hit up the Kickstarter campaign page to learn more about the many extras that came with the stretch goals.
Altogether, there are three basic versions: Classic, Modern and Artist Proof. There are a mix of autographed edition as well as multi-packs too. Prices start at $40. You have about 17 days to act on it before the campaign wraps up.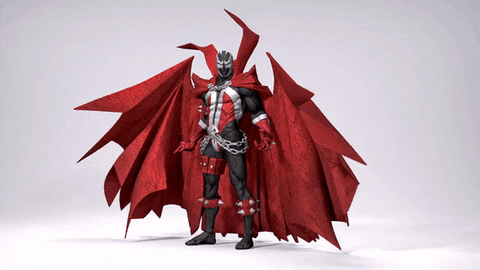 Images: Todd McFarlane Productions.