the updated MacBook Air may not be in everyone's favor, but if you've put down your hard earn money on one, here's a pretty accessory which might you want to give a thought. meet the Outback Solo Case For MacBook Air by San Francisco-base Waterfield Designs. it is a case by description and so indeed it is one, but snaps on the optional strap and you got yourself cool looking MacBook Air shoulder bag. crafted from premium leather and rugged waxed canvas, the Outback Solo, presents a rustic and classy way of toting your MacBook Air around. in addition to providing a snug fitting, protected pocket for your Air, it has two front pockets for your smartphone or iPad mini, plus a MacBook Air charger, wallet and keys.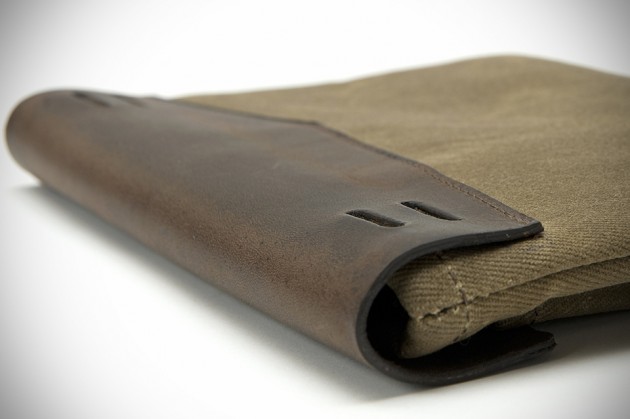 the outer canvas lends the bag with water resistant property, while the internal is lined with neoprene offering a scratch-free snug fit space for your MacBook Air. a magnetic closure on the distressed leather flap secures the content within. we thought the distressed leather and the tan canvas matched up really well and could easily pass off for both casual and formal use. we love the over-the-shoulder bag idea, however, it does not come as standard. if you want the matching leather strap, then expect to drop an additional 19 bucks on top of the $109 asking price for the bag. the Outback Solo Case For MacBook Air by Waterfield Designs is opened for pre-order now, with shipping expected to commence on May 16, 2014.
p.s. for now, it is only available for MacBook Air 13-inch model.