Whose digging the multiple Academy Awards 2020 winner, Parasite? I don't, btw. I am lacking of the artistic flair to fully appreciate the movie. However, if you do, you may want to celebrate this historic winner of Best Original Screenplay, Best International Feature Film, Achievement in Directing, and Best Motion Picture of the Year with the Parasite x CASETiFY gadget accessories.
In retrospect, you don't need to appreciate the plot twist, the visual aesthetic and twisted plot lines to appreciate the Parasite x CASETiFY Collection. If you like all things design, you will like what CASETiFY did.
The collection includes the usual suspect of CASETiFY popular products like cases for Apple iPhone 11 Series and Samsung Galaxy S20 Series, cases for Apple AirPods, and of course, Apple Watch Bands. You can even customize your name on the case in Morse code if that tickles your fancy:
Pretty snazzy, eh? Generally speaking, there are seven designs: Film – Collage, Ticket: QR code, Ticket: Classic White, Black Bar (you know, the censor bar as seen in the movie poster?), Film Board, Basement-Man, and the aforementioned Morse Code Custom.
My favorites got to be Ticket: QR code and Ticket: Classic Orange because, I most certainly have a thing for tickets. Well, not for parking tickets, though!
You can find Parasite x CASETiFY gadget accessories selling on casetify.com with prices starting at US$35. We heard there's free shipping now.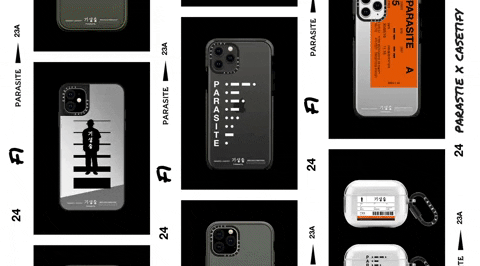 Images: CASETiFY.