What you see here is a bicycle. No, really. It is a bicycle, an electric bicycle to be exact. Built by Swedish dude Mikael Kjellman, PopRide, as it is called, was born out of the desire to have the practicality of bicycle with the comfort and convenience of car. Actually, it is more like a pedal-powered kart because it has four wheels, but that argument is pretty irrelevant. The point is, this unique transportation gets you from point A to point B by means of your own leg power which provides some form of exercise much needed by urbanites.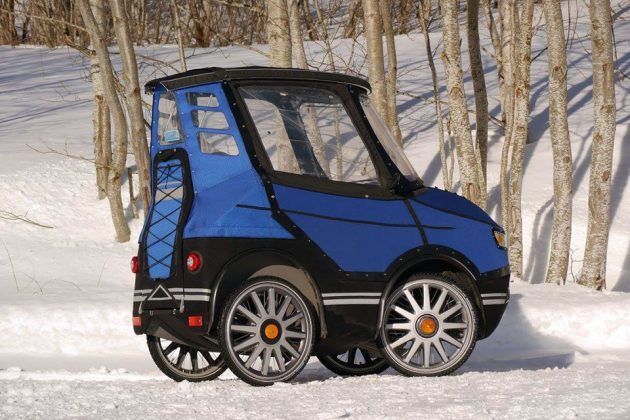 Pedalling is aided by a 14 speed gear system and if desired, a 250W electric motor could bring you up to a top speed of 25 kilometer an hour (or 15.5 mph) so you can get to your destination sooner, or overcome less forgiving terrains with relative ease. It has a pretty decent range too, coming in at 60 kilometer, or 37.3 miles. As you can see it not an actual car, but it does share some creature comfort found on a road-going counterpart, including a protective outer shell that keeps the elements out, front and rear lights, heated shield to prevent fogging, windscreen wiper (just one, albeit a manually operated one), a comfy soft seat with proper back rest, air suspension for ride comfort, and studded tires for more traction during winter time.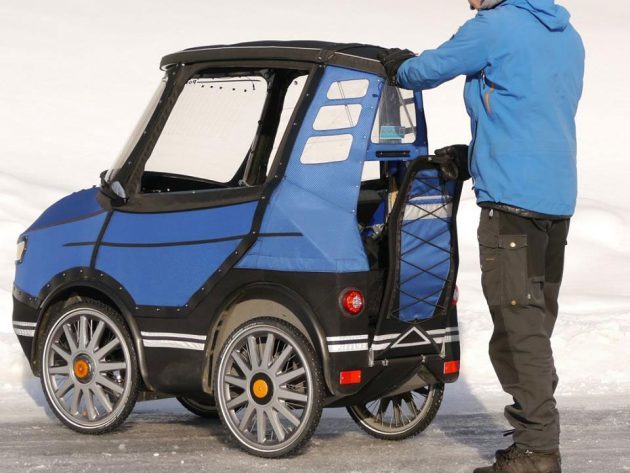 There's even a trunk to the rear for stowing your backpack or grocery bags and there'a an integrated tow bar for hooking up to a bike trailer for an expanded cargo space, or simply to ferry your kids. Though I would not suggest the latter unless the trailer is sheltered. Mikael even made the effort to design a set of car-like wheel covers to make the ride look more car-like. Speaking of wheels, guess what shoe size PopRide wears? 20-freaking-inches tires and why not? After all, they are bicycle wheels and tires. And did mention that it is super tiny? It measures just 180 cm long, 75 cm wide (5.9 x 2.5 feet) and a wheelbase of just 88 cm (2.9 feet); though it is pretty tall, standing at 145 cm (4.8 feet).
The longish, narrow and tall dimension, coupled with the large wheels made the vehicle gave it a car caricature look, which is kind of cute. PopRide bicycle car is not available as an unit; instead it is offered as a kit, which you can acquire via Indiegogo. Price-wise, we shall leave it to you to read up the perks cos' to be honest, we are confused by the reward levels. It don't have a specific price as far as we can see. It offers X amount of dollars in discount (based on your pledge amount) plus certain percent of discount (percentage depends on reward level) "when buying a PopRide kit/product." The campaign has two more days, but not to worry, it is funded and it is on flexible goal and so, either way, the product is a go.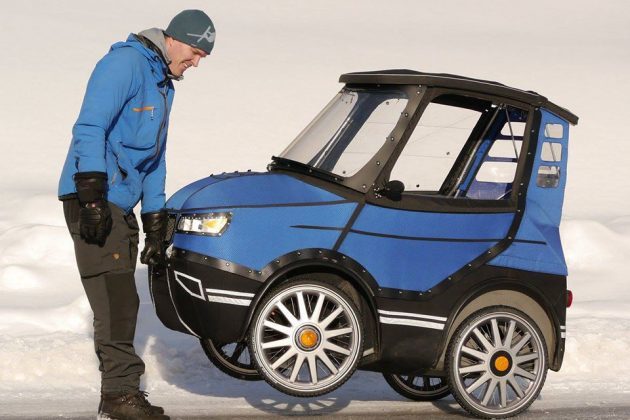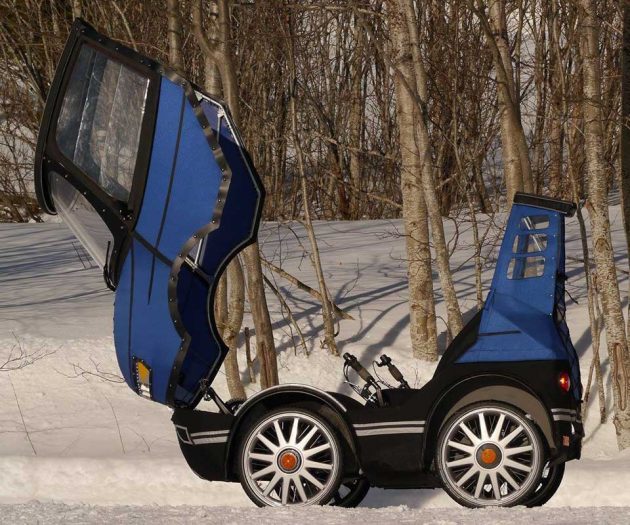 Images courtesy of Popride.