Porsche is no stranger to electric endeavor, but a fully-electric sedan? Well, that's something new. Unveiled at the Frankfurt Motor Show, the Porsche Mission E, as it is called, is a concept car driven by an electric drive system that pushes out 600 horsepower, taking this all-wheel drive and all-wheel steering sexy four-door coupe from standstill to 100 km/h (62 mph) in less than 3.5 seconds. Mission E is outfitted with an industry-leading 800-volt battery setup that enables it to make over 500 km (310 miles) in range and more amazingly, it can be recharged to 80 percent capacity in around 15 minutes. Of course, this quick charging would required it to be hooked up to a quick-charger, available at quick-charge stations.
The 800-volt charging port with "Porsche Turbo Charging" system can be found hidden away behind a movable body segment at the front left wing, just before the driver's door. Conventional charging can also be done at 400-volt charging station and at home in the garage through inductive charging too. The two electric motors that deliver power to all the wheels are also equipped with recover braking system to optimized electric system efficiency. Other worthy mentions include an aluminum, steel and CFRP body, carbon wheels – 21-inch up front and 22-inch at the rear, matrix LED headlights, counter-opening doors with no B-pillar, and an uber futuristic interior that's as minimalist as it is functional.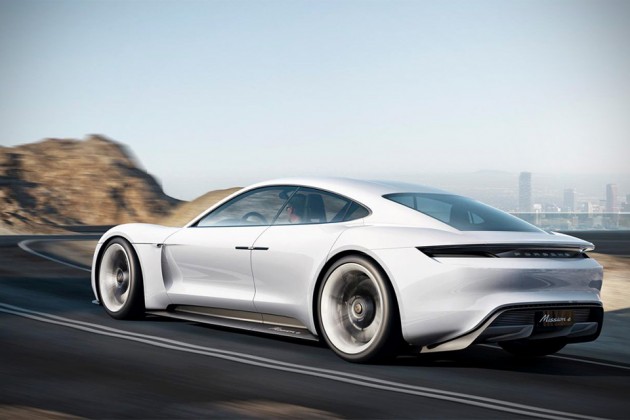 Speaking of the interior, it is void of transmission tunnel, thereby affording a more spacious interior where you will find individual bucket seats, digitized instruments, 3D display that reacts and moves with the driver, digital side mirrors, and high-tech controls via eye-tracking and gestures – just to name a few. We have seen quite a bit of concept, electric or not, but this example rolled out by Stuttgart automaker is as futuristic as any concept can gets. In short, it is beyond what words can describe and as such, may we suggest that if you are in and around Frankfurt from now till September 27, do pop by at the Frankfurt Motor Show and have a look at it in person. Otherwise, you will just have to settle with the beautiful images with this post.