There is no place Razer won't go to have your gaming needs covered. On the basic level, they have gaming peripherals taken care of and then, they went on to dabble in gaming portables. More recently, it wants to be part of your living room and now it wants to complete it with a proper sound system, a sound bar to be exact. Meet the Leviathan, Razer's $200 soundbar and subwoofer combo that promised to deliver premium quality audio for gaming, music and movies. A 2.1 system by nature, the sound bar packs four drivers – two 2.5-inch full-range drivers and two 0.74″ tweeters, complemented by a standalone 5.25-inch downward firing subwoofer, boasting an incredible deep 20Hz – 180Hz of heart-thumping bass. Is that even audible? Then again, I guess it doesn't matters cos' all you need is to feel the pressure the bass has to offer.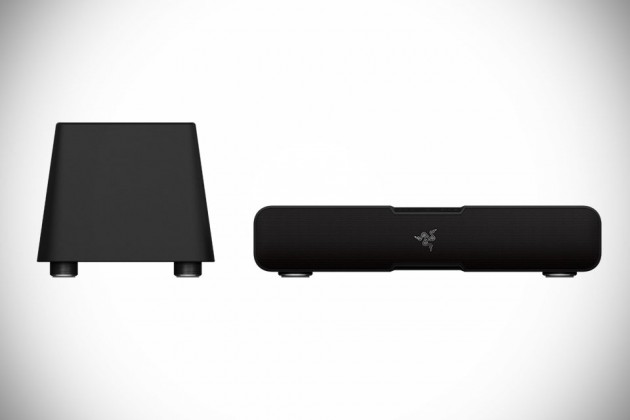 In all, the setup offers 60W RMS and benefits from a 5.1 virtual surround sound powered by Dolby Virtual Speakers. Dolby Digital and Dolby Pro Logic II are in the party too, to convert any incoming audio, be it stereo or multichannel audio via optical input, into surround sound. Named after the mythical sea-beast, which we're clueless why Razer has the penchant for mythical sea creatures, the Leviathan also boasts Bluetooth v4.0 with aptX for high-quality wireless music streaming from compatible devices up to a range of 33 feet and has built-in NFC for super quick pairing.
Aesthetically, the Leviathan bears the Razer's hallmark design and not surprisingly, only comes in black. The only gripe as far as physical hardware is concern is, the sound bar is rather short and it looks like it is designed with desktop monitors in mind than for the living like we have first imagined and the fact that the sound bar has adjustable tilt angles further strengthen the notion of it being a desktop-based sound system. Anyway, that's just our two cents. Pre-order for the Razer Leviathan Sound Bar is open now with delivery anticipated to start in November 2014.