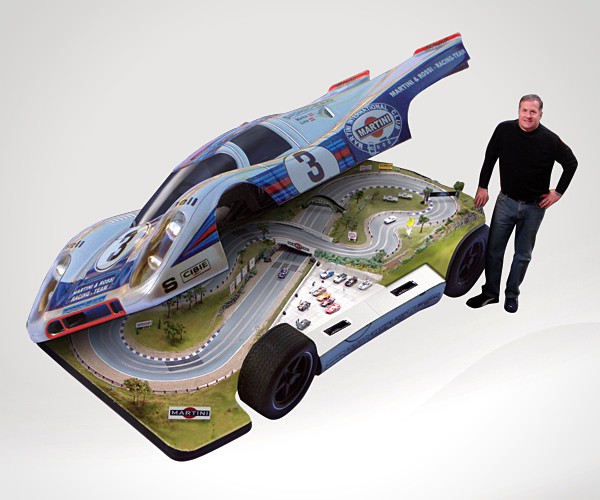 (image: Slot Mods) RCR 917 Replica Car Slot Car Race Track | US$tba | www.slotmods.com
modern motorsports are no doubt exciting but true blue motorsports fans will agree that 70s was the golden era for such exhilarating sport. the same goes for the toys that replicate those thrilling experience, like the slot car toys that were once popular in the 70s and 80s. so it seems appropriate to combine these two icons of the golden era together and let us relive those glorious moments all over again, and the Slot Mods' limited edition replica slot car race track featured here allows us to do just that. on the first glance, it looks like just another vintage race car replica that does not nothing but there's actually a secret lurking underneath that sleek vintage race car. at a push of a button, it unveils an awesome 1:32 scale wooden slot car raceway that comes complete with handcrafted, period-accurate signs, banners, aluminum Armco railing, landscapes and structures.
when you are not racing your heart out (all risk-free, of course), just let the slot car track's cover down and admire the awesomely detailed race car replica, while you sip on your winner's champagne beverage (not included). the replica racer is constructed of fiberglass body panels and features rolling aluminum three-piece original-style center lock wheels wrapped in race-worn tires, working headlights and taillights, and of course, a racing livery that will set any motorsports enthusiasts' heart fluttering with joy and excitement. no kidding, if you ever played with slot cars, you will know the adrenalin rush that comes with it and the fact that it comes as part of a RCR 917 replica makes it even more alluring. of course, if the RCR 917 isn't your cup of Earl Grey, there's also the RCR GT49, RCR P4, and the RCR T70 on the menu with your choice of period livery, or your own design. as for the price, we are as clueless as you are but it is safe to assume that it will (probably) cost an arm or a leg.