The next big thing in entertainment is upon us. We are talking about the biggest movie event of the year, the seventh instalment of the Star Wars franchise, Star Wars: The Force Awakens which will be hitting the big screen in less than a month's time. Riding on the hype are businesses, but there are also fans like Michal Miszta (aka The Model Maker), who filled the 'gaps' that commercial entities have missed with Rey's Speeder that actually flies. As a 3D printed custom quadcopter based on the gravity-defying Speeder that Daisy Ridley's Rey uses to zip around, scavenging for parts, Miszta's iteration clearly can do more than just skimming feet above the ground.
Miszta designed all the parts, starting off with a sketch using Google SketchUp based on the photos he found online and splits them into logical parts so they can be 3D printed at home. To increase the craft's durability in an event of an unfortunate crash, Miszta reinforced the Speeder's external panel with a layer of fiberglass cloth and resin. All told, the frame itself comes in at a grand 500g, which is not exactly light for a quad of this size. The main body is sanded and smoothen, and given a paint job with the requisite weathered look. Next, Miszta handcrafted Rey out of styrofoam and stick it with real cloths to increase the realism. Other parts, like the face and hands, of tiny Rey that are not concealed by pieces of cloth are sculpted with polymer clay.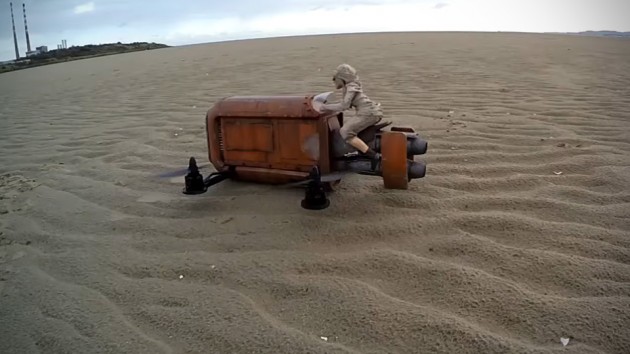 The overall result is actually pretty awesome, granted that Rey's face looks a little too manly (a look that reminds us of Peter O'Toole in Lawrence of Arabia). Michal did not go into specifics of the electronics, but if build your own using the free 3D model downloadable over at Thingiverse, you are free to use any motors and electronics of your choosing. On a side note with regards to the motors, Michal initiate choice was DYS BE 1806 2300KV with 5-inch props, but being just 80W in output each and on a heavy craft, it was hard to control and lethargic.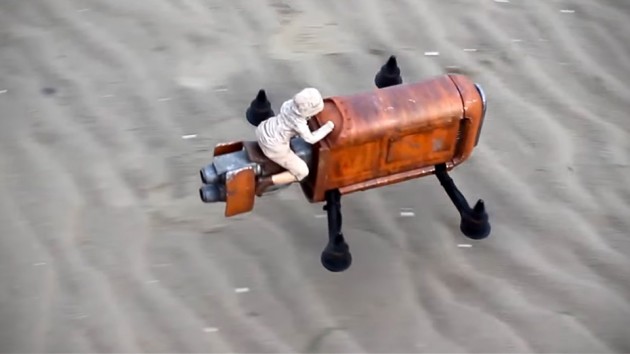 The plan is to use Sunnysky X2207S KV2100 motors, each with some 350W on the tap, paired to 6-inch rotors, to do the heavy lifting. Though we are not sure if Miszta have implemented it yet. So, if you are planning to have a go with The Model Maker's version of Rey's Speeder quadcopter, then do take note of the aforementioned motor concern. In the meantime, we invite you catch this awesome craft in action in the video after a few more brilliant images.