If the simple act of pulling credit cards out of your wallet is considered mundane to you, then we think you may be in need of something a little fancier. Something that goes beyond leather and card slots, something like the Roland Iten RCD82 Mark II Credit Card Case. Other than the name 'Roland Iten', the product doesn't quite pronounce the marvel it carries. Bling is not central here, though it does have some subtle lavish elements to it, but more on that later. Using a combination of patent-pending spring steel, tension-controlled recoil mechanism, and patented sorting lever, the Roland Iten RCD82 Mark II Credit Card Case allows you to neatly display and access to six of your most important credit cards with a single, swift one-handed action.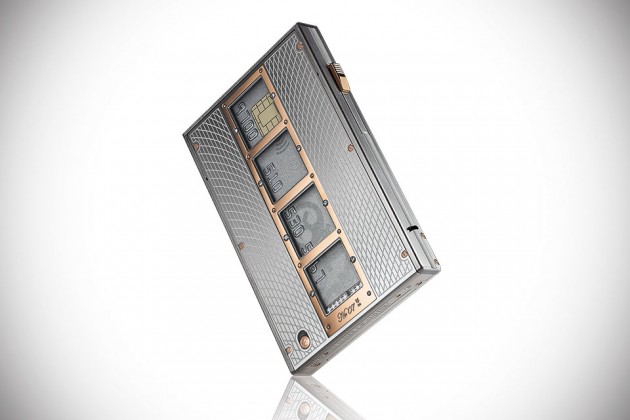 Noticed the two buttons located on either side of the case? Those are in 5N red gold and are responsible for popping open the case to discharge the internal carriage where the cards are located. Here's how it works from the horse's mouth:
When the two 5N red gold buttons, located on either side of the sleek case, are pressed simultaneously with the thumb and middle finger, the holder's internal carriage is discharged. The index finger slides the carriage 45 degrees, fanning the cards up and out of the carriage for easy handling.
Upon releasing the index finger, the power spring-steel recoil mechanism will act to bring the carriage back into the holder. It may sounds like a complicated process, but it really is a swift operation and could be executed in a matter of seconds. On the cosmetic aspect, it boast a titanium and aluminum construction with four sapphire glass windows framed in 5N red gold, allowing you to have a clear view of the cards inside. 10 VVS1+ diamonds of .23 carats can be found at the lower window for an added measure of opulence without being ostentatious, while the curved recoil mechanism provides a horological kind of sophistication that links it to the art of watchmaking.
Beyond its snazzy appearance, the RCD82 Credit Card Case also helps to keep your credit cards in pristine condition and shielding them from radio waves, thereby keeping the data from wirelessly stolen by high-tech criminals. Roland Iten RCD82 Mark II Credit Card Case is available in two limited edition versions: 41 pieces in natural titanium/aluminum and 41 pieces in black-treated titanium/aluminum. At a whopping 18,500 Swiss francs, or about US$19,300, a piece, we doubt they will be flying off the shelves anytime soon. Then again, we will never know, will we?