shotguns have been the weapon of choice for home protection and hunting, well… at least for localities that actually allows them, but despite its popularity, shotgun owners have shun the use of ear protections for a variety of reasons like the need for quick, sudden response in the event of a home intrusion or perhaps, the need to hear the surrounding while hunting. however, not wearing hearing preservations has its long term health effect, most notably the risk of hearing loss in long run. this is where Salvo 12 Shotgun Suppressor (or silencer, if you like) by SilencerCo can help. announced recently, the Utah-based company has developed what billed as the world's first commercially-viable shotgun suppressor that, in its longest form, is capable suppressing sound down to 137 dB at the muzzle – which is well below the hearing safe level set by OSHA.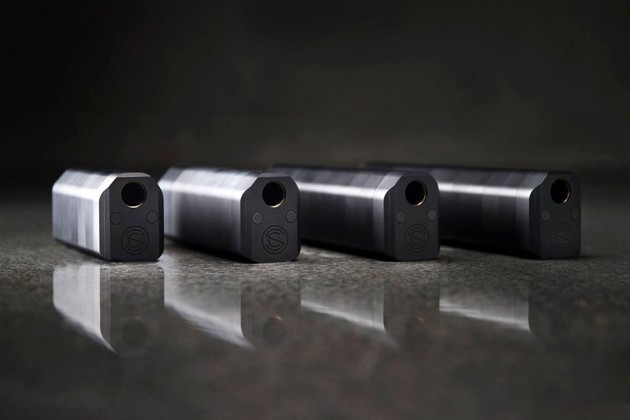 wait, did we just said 'in its longest form'? oh, yes we did. why? because the Salvo 12 is actually modular, which means you can choose to add or remove sections to balance length, weight and the level of sound suppression needed. pretty ingenious, if you ask me. it comes standard as a 12-inch suppressor, but it can be reduced to 10-, 8- and 6-inch as per your application and need. there's a caveat though. your shotgun has to have a choked barrel as the Salvo 12 attaches to your firearm's choke thread using an adapter. if you are all clear, all there's left is to get the correct adapter for your shotgun. the suppressor is crafted from 7075 T6 aluminum and 17-4 stainless steel, hard coat anodized, and weighs between 1.2 – 2 lbs, depending on the length. so there you have it, a shotgun accessories that won't make too much a ding the next time you hunt.
so what's the price for such quiet bliss? $1,400 is the asking price. no cheap, but you can't really put a price on your hearing, can you? scroll down for a couple of videos of the Salvo 12 in action.