Digital files are getting bigger, but unfortunately, internal hard disk aren't getting any larger to cope with our insatiable appetite for bytes – thanks in part to the proliferation of 4K contents. So, if you work on 4K contents, then you are going to enlist help from an external drive like the Samsung SSD T3. A follow up to the SSD T1 introduced last year, SSD T3 offers a blazing fast file transfers of up to 450 MB/s via USB 3.1 interface in a package with a footprint no bigger than an average business card and tipping the scale at mere 50g (1.8 oz.). In addition, it is given rugged properties – courtesy of a new shock-resistant metal case and internal frame. The T3 will shrug off up to 1,500G of force and survive a drop of up to two meters (6.6 feet).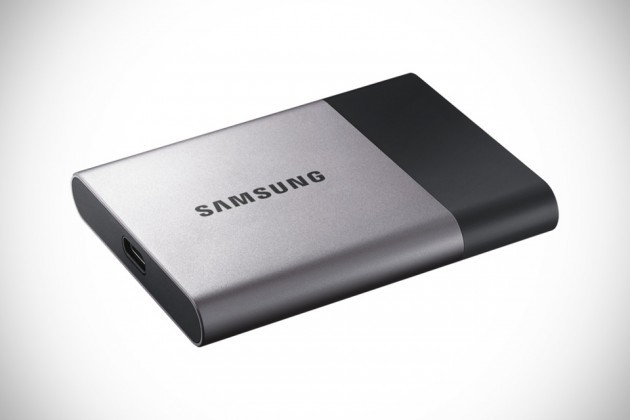 Despite its diminutive size, T3 still packs an integrated Thermal Guard to prevent overhearing in extreme temperatures and if that doesn't give you a peace of mind, perhaps a standard 3-year limited warranty would. Other notables include compatiblity with both Windows and Mac machines, widely adopted exFAT file system, works with Android via a free mobile app, equipped with proprietary V-NAND and SSD TurboWrite technology, and last but not least, built-in AES 256-bit hardware encryption that covers all three platforms so should the drive falls into the villains' hands, sexy pictures of you will still be inaccessible.
Samsung SSD T3 Portable Hard Drive will be offered in a choice of 2TB, 1TB, 500GB, and 350GB, and is expected to hit the shelves this month for an yet-to-be-announced pricing.