Until the day comes when one device could do it all, we will have to live with multiple mobile devices. Then again, not many folks own more than a smartphone and a tablet, but if you happen to own more than two, or you have a family with multiple devices, then Griffin PowerDock Pro could be the perfect solution for charging up to five devices simultaneously without occupying multiple wall outlets. If the Griffin PowerDock Pro looks kind of familiar, it is because it is actually upgraded version of the PowerDock 5 introduced 3 years ago.
This updated multi-dock charging device sports a completely redesigned aesthetic that's clearly several step up its predecessor. Key features include built-in cord management that eliminates mess cables, full 12 watts of optimal charging for any iOS or Android device, weighted base ensures sure-footedness, and built-in ChargeSensor circuity ensures delivery of optimal rate of charging power to each device for the fastest charge possible. The charging cradle is designed to accommodate varied sizes of mobile devices, with or without case.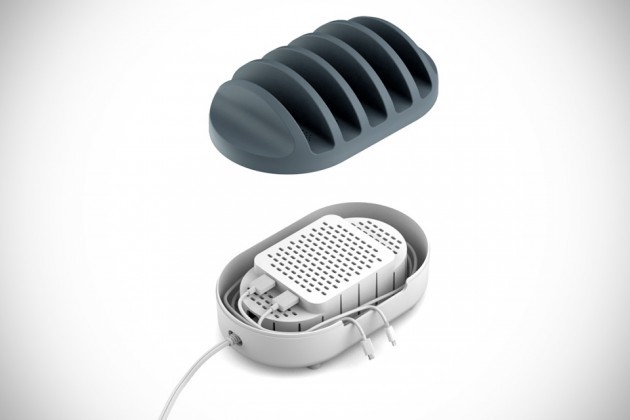 There's a slight caveat though; you won't be able to use your devices as they are lined up on the dock and also, the dock is designed for landscape placement only. I am sure you can work out a way for portrait view, but my guess is, it will make the whole thing look rather messy since now the cable(s) has to go top side.
The Griffin PowerDock Pro carries a retail sticker of $129.99. At the time of this writing, it appears to be out-of-stock on Griffin web store. However, we noted that Griffin's exclusive launch partner, CDW.com, have it in stock at a discounted price of $76.99.