we fly, we skim over water and dive under it, but yet, we still can't walk on water even when aided by technology. it is indeed a shame that despite the technological advancements, walking on water is completely off limit to mankind, well, at least until the day we have gigantic feet (i don't wish for that, btw. that would be ugly). so for now, it looks like cycling over water with Schiller X1 Water Bicycle is your best bet if you happen to have such fantasy. as for those who adores cycling, it (the Schiller X1) offers you an opportunity to take your cycling beyond the shores and enjoy a different perspective as you do so. when you ride along the coast, you see the wondrous ocean view, but now, you ride on the open water and see the shoreline. how's that for a change?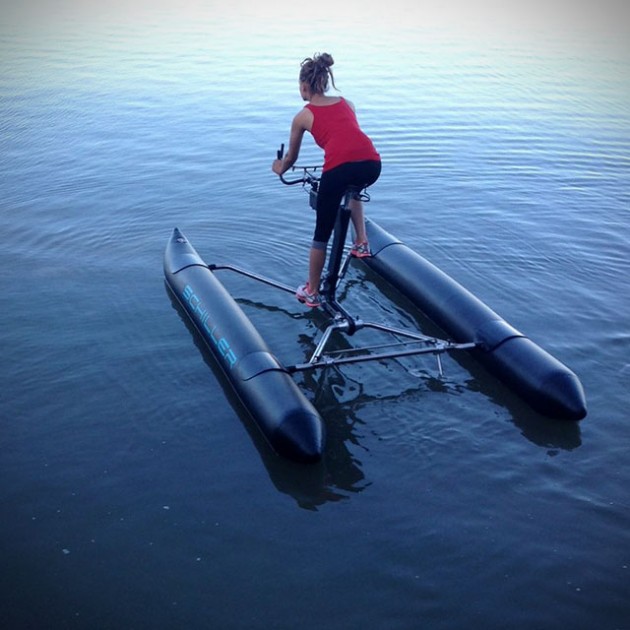 the Schiller X1 Water Bicycle boasts some serious high-end features, including hard anodized powered coated aluminum frame, stainless steel and aircraft-grade aluminum materials, proprietary two-stage 8:1 gear reduction with Gates Carbon Drive Belts, NuVinci n360 CVP transmission, integrated steering on handlebars using twin oscillating propellers for rudderless steering, rugged dual chamber inflatable pontoons, watertight storage compartment for storing valuables, high-intensity LED lighting, and performance saddle, handlebars, cranks and pedals.
the best part is, you don't need a trailer to haul this thing to the nearest shore or lake; it can be assembled and disassembled in under 10 minutes for transportation on regular cars, though it will require both the bike racks and trunks of your vehicle for storage. the Schiller X1 Water Bicycle is available for your taking for $6,495, but if you have more pennies to drop, there is a pricier and more exclusive X1 Founder's Edition up for grab for $8,775.