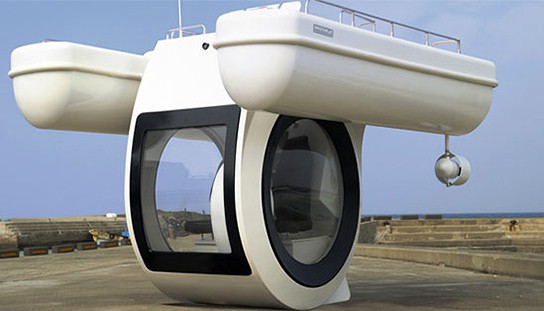 (image credit: Raonhaje)
yet another cool transport that is destined to be in the rich's marinas or some tourist spot. Raonhaje 'EGO' is a fully-electric semi-submersible boat (i wouldn't call it submarine) that allows pilot to operate with minimal training. instead of a throttle lever like on a traditional boat, EGO has pedal acceleration just like you would find on a car.
[ad#Google Adsense-text-468×60]
being a semi-submersible, this boat is both on the water and in the water. how so? it is not a fledge submarine but more like a partially submerged yacht. from the water surface, the EGO looks the aft section of a full size yacht and on each side of the boat is a floating hull, complete with non-slip surface and grabrails which is akin to a sun deck on a yacht.
under the surface is where the action is. entering from the central hull via a ladder similar to those you find on any yacht, you will find the cockpit area with room for a pilot and a passenger. three special acrylic panels provide occupants with a three sided visibility of the underwater world.


(image credit: Raonhaje)
the boat itself houses a visual monitoring system (hopefully, something to see what's above), battery monitoring system, a marine two-way radio system, compass, and digital depth gauge. which, i thought the latter, is kind of redundant as this baby won't go anywhere deeper besides just under the surface of the water.
the onboard electric propulsion system enables the EGO to cruise at a top speed of measly 4 knots and has a run time of approximately 6-10 hours on a single full charge. any person with experience with operating a yacht should be able to run the EGO in no time. just pilot it to the chill spot of your choice, emerge to the surface and chill out on the mini sun decks. ah… life's good, isn't it?
via Born Rich