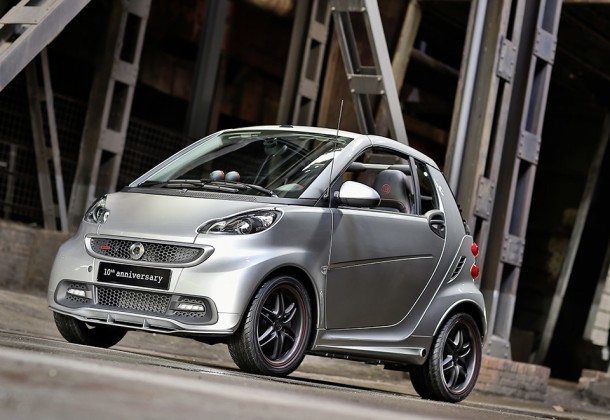 smart BRABUS 10th Anniversary | €tba | int.smart.com
love the cuteness of the smart fortwo but don't want to look too 'sissy'? well, then look no further than the newest souped up car from the smart and BRABUS collaboration: the smart BRABUS 10th Anniversary. based on the on the current smart fortwo BRABUS production model, the 10th Anniversary model is fitted with a 102 horsepower (75 kW), force-induction petrol unit with 147 Nm (108 lb-ft) on tap that enables this pocket rocket to hit 100 km/h (62 mph) from standstill in 8.9 seconds and on its way to a terminal speed of 155 km/h (96 mph). though no further boost is given on the engine performance department. however, do expect special aesthetic treatments both in and outside the vehicle, including a liquid silver paint job on the body panels, front grille, door mirrors, front spoiler and side skirts.
other highlights include titanium colored headlamps, striking red BRABUS logos on the exterior front and rear of the car, hand-stitched black leather interior, contrasting red hue for various trim parts, BRABUS sports steering wheel with cruise control, gear shift level knob with integrated starter button, and a serialized number plaque to remind you and your passenger that this is not your regular BRABUS pimped up fortwo. on the equipment aspect, expect to see comfort and light package thrown in, heated seats, electric power steering, LED daytime driving lights, audio and navigation system, as well as matt grey hued BRABUS Monoblock VII alloy wheels. in case you haven't notice, the smart BRABUS 10th Anniversary is a special model created to mark the 10 years of smart-BRABUS collaboration and only 100 units will be made available with availability and pricing to be advised. do not miss a gallery of this beauty, available after the break.