Snowmobile's design has has remain largely unchanged for ages. Though it may have more powerful and efficient engine and possibly more capable suspension, one thing has remained the same: the rider is still subjected to freezing cold. However, designer Michal Bonikowski begs to differ. His concept snowmobile, dubbed Snow Crawler, makes exploring the white powder-covered great outdoor a fun but not freezing experience. It is what the designer described as "a perfect marriage of excellent handling, all-terrain vehicle and a closed cabin for the driver." And so yes, this ride will keep the chill away from you, well, at least most of it, as you take on the snowy trails or scaling up steep slopes, pushed along by an efficient electric drive.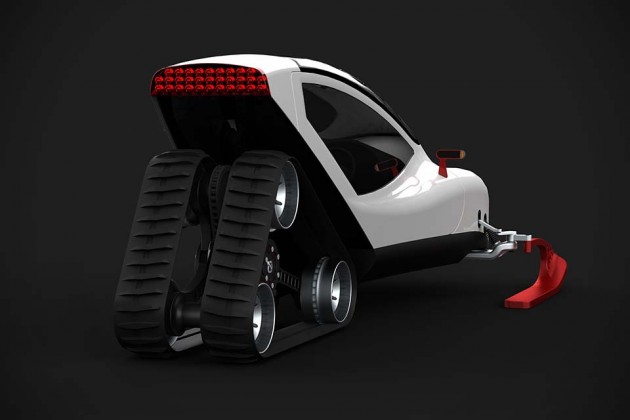 Designed for one for obvious selfish reason much like a supercar, the Snow Crawler is a completely new take of snowmobile in terms of drivetrain and overall vehicle design. It comes complete with side mirrors, access doors, dual headlights, and what looks to be LED rear/brake light combo. Aesthetically, it looks more like a futuristic sleigh, or even a car, with the front sporting a set of widely spaced, unconventional-looking skis. At the back is where you will find a pair of triangular tracked wheel that provides the locomotion.
We love idea of dual triangular tracked wheel, but we also can imagine that such set up won't be able to accommodate a trailer without a dedicated rigid tow bar protruding in between the tracks. Still, it is a drool-worthy ride that makes us wished for winter with snow. Lots of it. However, if we were you, we wouldn't hold our breath for it, because it appears that Michal Bonikowski's Snow Crawl is all but a concept. Keep going for a few more rendered look.