throughout the three original Star Wars flicks, we have never seen Lord Vader eats, perhaps he don't, or perhaps he did? I am sure from time to time he would sneak out with the Emperor (remembering that he has no other friends other than his boss) to chew on some juicy grilled beef. no? that's debatable, but if Vader did (not sure about on the onboard fire safety order though), then i bet the Star Wars Lightsaber BBQ Tongs will be the tongs of choice. no doubt about it.
the Star Wars Lightsaber BBQ Tongs features a pair of pincers for the meat works, complete with a removable transparent red cover for sheathing the nippers when not in use, or for pretending that's actually a Lightdagger or Lightknife, an actuating button built into the iconic Dark Sith's Lightsaber hilt and rounds up with the classic Lightsaber sound effect powered by a pair AA batteries. why the sound effect? because no one can resist the temptation to recreate the sound effect whenever a Lightsaber is in their hands. trust me. we totally understand that, because we happen to be one of those people… *hum…hum…hum* *pew…pew…pew*
…and it is pretty hefty too; each Star Wars Lightsaber BBQ Tongs weights in at around 425 grams, and yes, this could also be the first BBQ tongs in history to require batteries. instant talk around the fiery pit. you can pre-order the Star Wars Lightsaber BBQ Tongs from The Fowndry for £19.99, which translates to about US$34, based on the current going rate.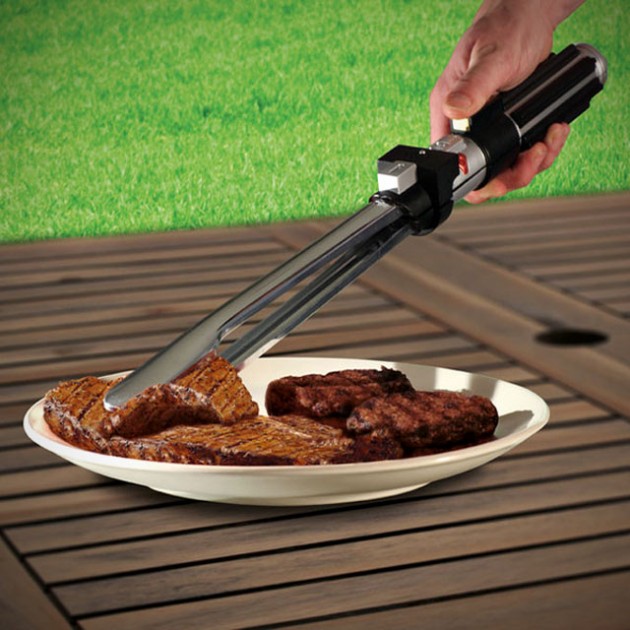 The Fowndry via Gizmodo