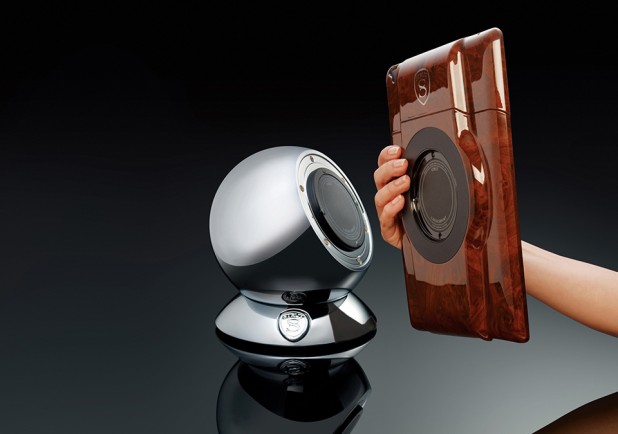 STRUT LaunchPort System | US$1,250.00 | www.strutlaunchport.com
unless you are one of those high society elites cum petrol-head, you probably have not heard of STRUT. for the benefit of those who don't know who STRUT is, they are a specialist firm who turns out automotive jewelry such as chrome wheels, grills and all that (chrome) jazz. anyway, they have taken a step into the luxe gadget accessories market by teaming up with extravagantly-priced induction charger maker, LaunchPort to introduce the STRUT LaunchPort iPad Charging System. setting itself apart from LaunchPort's pricey induction chargers, this collaboration item is the true epitome of opulence styling that STRUT is known for. the system compose of two parts: an iPad case that not only protects your iPad but also has the necessary circuitry to charge it, and an accompanying pedestal to charge the iPad with the case on.
the case itself comes in four finishes, including walnut burl, leopard print, sparkle pink, as well as carbon fiber. the pedestal is handcrafted from stainless steel, finished with three coat of chrome for that extra shine that reminiscent of STRUT's automotive jewelries. charging the iPad with the purposed built case on is as simple as docking it to the pedestal, which holds the iPad firmly in place using strong neodymium magnets and at a comfortable viewing angle. it all sounds like something that any style connoisseur would want but before you put the STRUT LaunchPort System down in your 'to buy list', let it be known that it will set you back at a hefty $1,250. though you can choose to buy each item separately with the pedestal costing a pricey $1000 and the case at $250 a pop. wow. more look follows after the break.
via Jubbling