North America's fans of Subaru Technica International or more popularly known as STI will be elated to know that STI is finally making their presence in the US with the introduction of the Subaru STI Performance Concept at the 2015 New York International Auto Show. Little is known about this beautiful beast, except for the fact that is a mobile showroom of STI prowess and what STI has to offer to motoring enthusiasts in North America. This sexy beast is powered by a 2L STI-tuned EJ20 horizontally-opposed (aka boxer engine) four-cylinder, turbocharged racing engine as used in the current Subaru BRZ GT300 race cars, which means you are looking at a beastly near-300 horsepower and 333 lb-ft (450 Nm) of torque.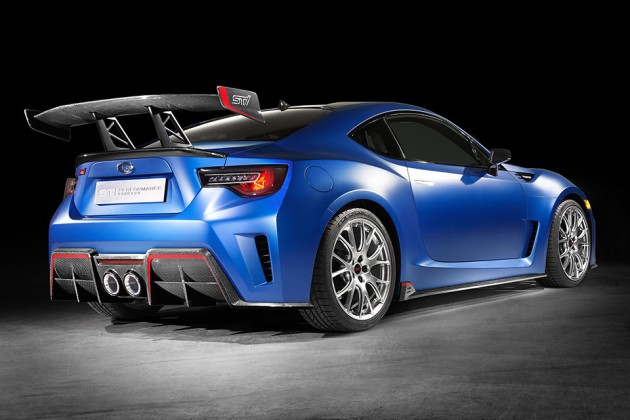 In addition to the race-prep engine, it is also packed with other STI technologies and components, including STI suspension and brake enhancements. The exterior also boasts a race car getup that closely resemble those of the GT300 racers, with an aggressive aero bodywork and of course, a massive GT wing and deep rear diffuser. Naturally, you won't be expecting race-spec-ed pushrod suspension, which is also a good thing, because signify that this car is something fans may be looking at when STI sweeps into the United States. Having said that, the interior won't be bare, race-prep found in the GT300, but instead, it offers a race-inspired cabin, complete with STI-branded sport seats and the right amount of red accents, that's more suited for everyday driving.
With the STI Performance Concept, Subaru kicks off its plan for the US expansion of STI in its three core business areas, namely, aftermarket parts, complete cars and motorsports. So folks in the United States, expect to see and hear more about STI in near future.