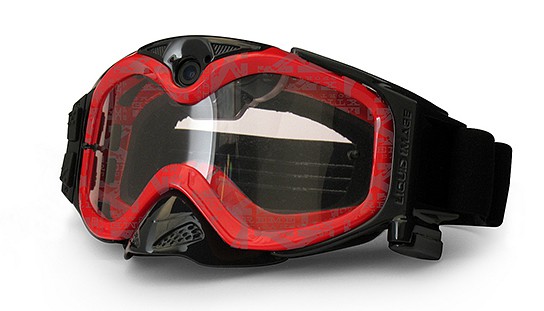 (image credit: Liquid Image) Liquid Image Summit Summit and Snow Sports Goggles | about US$400.00 | www.liquidimageco.com
if you are an outdoor adventure guy, you will agree that capturing those exhilarating moments in first person perspective is kind of like a trophy to any adrenalin junkies. in the past, we have to content with standard definition, and subsequently 720p quality strap-on action cam to do the job. however, miniaturization of technology occurs so quickly and now your glorious moments can be captured in full high definition (HD) 1080p quality with the Liquid Image Summit and Impact series goggles.
[ad#Google Adsense-text-468×60]
whether you are tearing down the snow alps or pushing downhill on your dirt bike, you'd be wearing a pair of goggle, right? so why not don a pair that lets you capture your moment of glory in full 1080p quality? Liquid Image has two series catering to both form of extreme sports: the Summit series for snow sports and the Impact series for off-road sports. both series features a wide viewing angle 5.0 megapixel (interpolated to 12.0 megapixels) camera which can capture still images at 4000 x 3000 pixels and video with audio in 1920 x 1080 pixels (full HD) at a rate up to 30 frames per second (fps).
storage of captured images and video is via the included 4 GB micro SD/SDHC card, expandable up to 32 GB. a high speed USB cable allows hooking up of your goggle to the PC for downloading of images and footages or simply remove the micro SD/SDHC card from the goggle and download them through your micro SD/SDHC card reader. powering the camera is the 1200 mAh Lithium batteries which is good for 1.5 to 2 hours of video recording. additionally, the camera has a High Action mode that features HD 720p video recording (1280 x 720 pixels) at 60 frames per second.
the goggle weighs in 0.54 lbs (0.24 kg) with the batteries and the lenses are of anti-fog treatment Lexan item. a 4-layer face foam ensures a comfortable fit for all shapes of face. well, what can i say? it could be the end-day for strap-on action cam and the fact that it can record in 1080p is totally wicked cool.