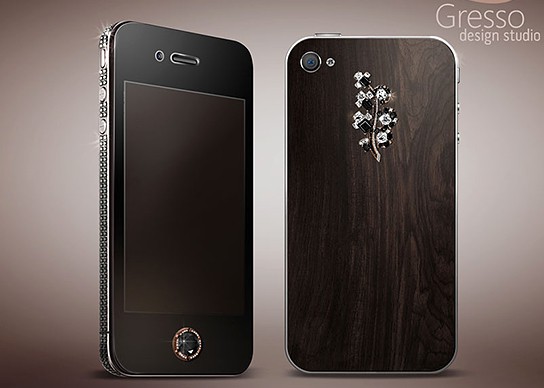 (image credit: Gresso) Gresso custom limited edition Black Diamonds iPhone 4 | US$tbc | gresso.com
there are hundreds of ways to make an already expensive iPhone 4 even more expensive. giving it an all out gold treatment is one way but that's so yesterday. there is a more classy way, like adorning it with white and black diamonds over a classy 200-year-old African Blackwood. if the aforementioned statement tickles your senses, then the new Gresso iPhone 4 Black Diamonds for Lady is the phone for you. however, if you are not a lady, i'm sure the classy diamonds and wood combo won't make you any less manly.
in place of the fragile glass panel, this Gresso item has a wooden panel crafted out of a 200-year-old African Blackwood and encrusted with 6-carats black diamonds, 13-carats white diamonds, and topped with 18-carats pink gold and platinum precious metals. the edge is of platinum, adorned with black diamonds and the 'home' button is decorated with 2-carats black diamond framed inside a cluster of white diamonds and pink gold. beautiful isn't? we love the diamonds and blackwood combo. it gives a sense of classiness without the being too ostentatious.
unfortunately, there are now words on how much the custom limited edition Gresso iPhone 4 Black Diamonds for Lady will cost, however it is safe to assume that it would cost a bomb. but hey, it is totally gorgeous, ain't it?