You have backup batteries for gadgets and even for desktop computers and other equipment, but what about your home in general? You know, for times when outages hit your locality? This is what the Tesla Powerwall Home Battery is for, well, at least in the basic sense. Just think of it as a big-ass uninterrupted power supply for your home which will pump out the much needed electrons in time of outages. But that's not the end of the story. The real objective with Powerwall is to eventually eliminate our dependency on fossil fuel generated electricity. Though it is worthy to note that this battery can also be rigged to the grid to store energy for time of trouble, or to be charged up with cheaper off-peak power, ready for use whenever you choose to.
By charging up during off-peak and using it during say, peak period, the device is also doing the grid a favor by reducing the load on the grid. But if you really serious about being eco-conscious and in the process, save yourself some dough, you'd be glad to know Powerwall works with solar panels right out of the box, which means you can harness the energy the sun has to offer. The battery will then store the free power converted by your solar panels which you can then utilized during the night. In commercial aspect, this efficient battery solution also provides a storage for energy generated which would otherwise counted as wastage.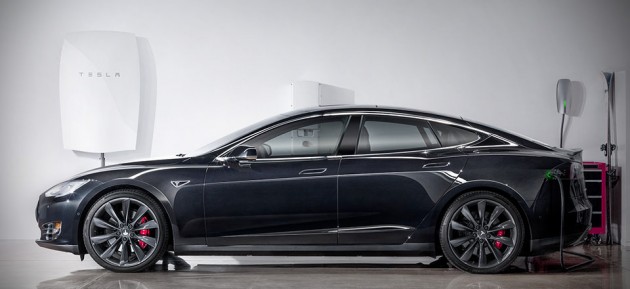 Elon Musk said that, as of now, the only thing that's standing between a fossil fuel-free electric generation and its practical application is battery technology, to which he believes Tesla Powerwall is the answer and after watching his presentation, we are beginning to think that he might be right. Perhaps the most crucial part about Powerwall for home owners is, is its compact form factor. It is slim, measuring a little of 7 inches thick, and designed to be wall-mounted so that it won't take up unnecessary space.
Two varieties are available at launch: a 10 kWh and a 7 kWh model. Even more power is required, multiple Powerwalls (up nine, actually) can be stacked together to meet your need. Now, you may think such a fancy backup battery coming from the company that makes electric car cool again is going to cost an arm or a leg, but to our surprise, $3,500 is what you're expected to fork out for the 10 kWh model or $3,000, if you're up for the 7 kWh version. U.S. folks can reserve theirs starting today, but official availability won't happen in another three to four months time.