So you think BMW has covered all possible segments in the auto market? Think again. All this while, it have been missing out on one segment which marques like Mercedes-Benz, Volkswagen have long covered. Don't know what it is? It's MPV, or more correctly, a minivan, as it is known in the States that we're talking about. But that was until now cos' it now has the 2016 BMW 2 Series Gran Tourer, the German automaker's all-new model. It is really all-new. Without looking at the image, I bet you will never have guessed Gran Tourer was in fact a real people mover and not surprisingly, it is built on the 2 Series Active Tourer's underpinning.
If you don't know what a minivan is, or what it can be used for, BMW already have that straighten out for you, as seen in the press release's accompanying photos which shows kids playing soccer and family having fun at the beach, for examples, all with the 2 Series Gran Tourer park right next to the respective activity. So conclusion is, BMW wants you send your kids to soccer practice with this car and possibly head out to beach with it too. You get the idea. It's the stuff you do with this type of car. What? You asking about a car like that with your girl? Well, we shall leave it to your creativity. So what has it got to offer? Seats for up to 7 person, spanning three rows and lots of luggage space. Well, that pretty much sums up what it has to offer.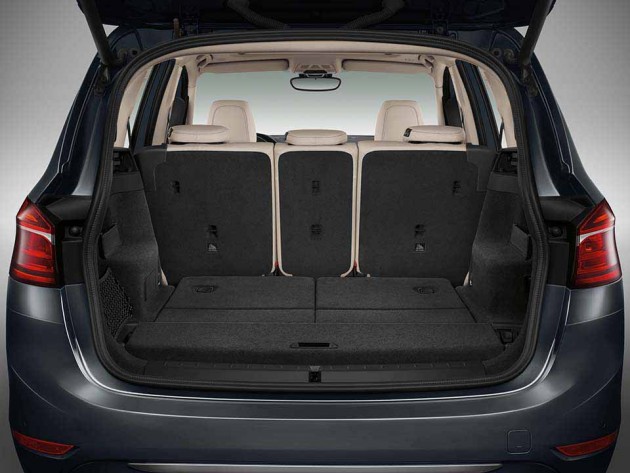 You will find the usual split fold seating, but in the case of the 2 Series Gran Tourer, it can accommodate up to three child seats. So aspiring parents who are gunning for triplets, this is the car for you. You will have five models to choose from, namely standard, Advantage, Sport Line, Luxury Line and M Sport, each with varying equipment and trim. As for power, there are five newly developed turbo engines: three- and four-cylinder with power output ranging from 116 to 192 horses and you can also expect both front and all-wheel drive versions.
On the inside, it is all about family, or more specifically, kids, so you can drive in peace without them blasting "are we there yet?" And it aims to achieve that with a myKIDIO app, which you will have full control from the iDrive controller and Control Display. But for that to work, you will need to have the kids' devices connected to the car. So there you have it. BMW's first ever people mover. Are you loving it? Or are you still asking "why? why this?" We are divided, but shan't influence your opinion. All we can say is, it feels weird looking at a minivan with a BMW badge on it.