For a tiny space, furniture selection becomes tricky. Have too many of them, you'd be making the small space even smaller and knocking over them every other time. With this in mind, Slovenia-based designer Klavdija Jarc conceived The Woodieful Chair which she refer to as "adaptable piece of furniture." While it is called a 'chair', The Woodieful Chair is actually the Transformers of furniture, but without the fancy folding mechanism or quirky transforming noises. Just flip it over and it can be a mini coffee table, or a side table, or flip it again (or and again) to turn it into a shelf/rack for storing magazines, hold up your longboard (yes, even longboard), or whatnot.
It is a surprisingly simple as it is versatile. We have seen quite a fair bit of furniture that wow with some form of pretty sophisticated transformations, but The Woodieful Chair's clever design negates fancy actions and hits straight on versatility with a simple flip of the furniture, which is kind of brilliant. As a chair, it is good for holding up to 350 lbs (160 kilograms) and at the same time, it is small enough to be tucked away when not required, but then again, with a furniture this pretty, you probably won't want to 'tuck it away'.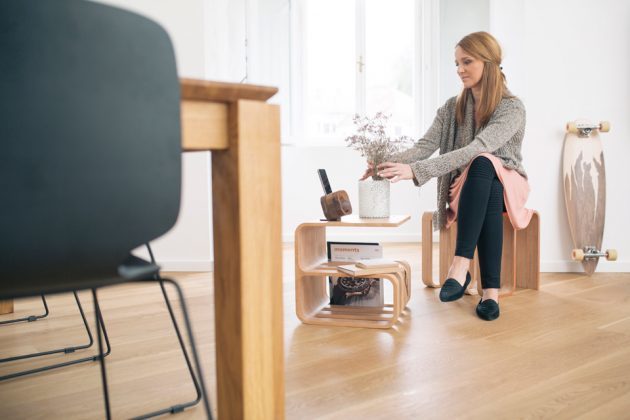 As a table, it boasts a raised functional space below for putting stuff like toys, magazines and other reading materials and as a shelf/rack, it offers two ways of storages: as horizontal shelves, or as vertical racks, depending on the orientation it is flipped. The Woodieful Chair will be officially available through Kickstarter on April 25, 2016 where interested buyers can pre-order a piece of this wonderful beech wood furniture at an yet to be announced sticker.
UPDATE [April 26, 2016; 07:23AM PDT] Just so you know, Woodieful is on live on Kickstarter for the next 29 days or so, priced at $250 and up.