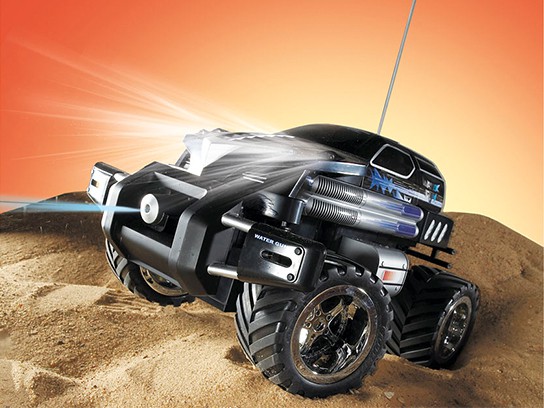 (credit: The Sharper Image) Remote Control Car with Water Gun | US$79.90 | www.sharperimage.com
the season of burning sun is not here yet but you can start equipping yourself for the summer fun with cool water guns. time to take water gun battle to the next level by not exposing yourself to your opponents' water arms'. here's the toy-of-choice to do just that: the Remote Control Car with Water Gun. this cool RC car is capable rolling into a water gun battle at a top speed of 11 mph and flashes its Xenon lights, blinding your opponents. nah, we made that part up – it won't blind anyone. the working Xenon lights and the aggressive body styling adds to its aesthetic appeal. the military already has remote control vehicles to do their snoops, now you can do the same for your water gun battle with this RC car, but of course, it have to be within your line of sight. however, we suggest a little mod to equip this little guy with a camera or two. when you do that, just remember to waterproof your camera(s), else the little guy will be blind in no time.
the Remote Control Car with Water Gun is surprisingly inexpensive too. it retails for $79.90 and is available over at The Sharper Image web store.
via Red Ferret