Waterproof pouch or carrier for keeping smartphone away from dirt and water is not new. But Sweetleaff Smartphone Pouch with Air Pump you see here is not any old waterproof pouch; it lets you use the phone's touchscreen while it is stored safely inside.
No. Wait. In fact, you can do that with some of other clear, waterproof carriers too, but sometimes it work and sometimes it doesn't. So, why should you subject your desire to use the phone (while in the pouch) at the mercy of randomness?
No, you should not and hence, the Sweetleaff Smartphone Pouch with Air Pump. Distinguishing itself from the horde of so-called waterproof pouches/carriers out there, Sweetleaff is, for starter, IPX8 rated to keep water and dust out.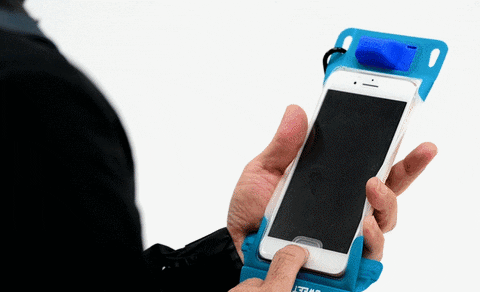 In addition, it has a manually operated "air pump" that lets you remove the air inside the pouch. By removing the air within, the pouch will "adhere" to phone (much like vacuum packing) and thus, letting you use the touchscreen as per normal. It is a simple, but brilliant solution to a real (first world) problem.
Sweetleaff Smartphone Pouch with Air Pump is a second product from Pleasant Japan's own brand "Sweetleaff" and its was successfully crowdfunded on Japanese crowdfunding site, Mirai Shopping, late last year.
Now that the campaign has ended, iPhone users in Japan can still acquire it from Pleasant Japan's website for 1,780-1,880 yen (US$16-17). And yes, it is currently sized for select iPhone models.
Images: Pleasant Japan [JP].