remember the pop-a-point pencil you use as a kid? you know? the pencil that sits between a mechanical pencil and the traditional pencil that lets you pop a blunt tip off for a sharp, fresh lead tip? who knew that this same concept can actually applies to multi-tool too? while the Tool Pen is not exactly the multi-tool you expect, it uses the same concept behind the pop-a-point pencil for most screwing jobs covered. it offers thirteen bits across four commonly used types of bits, including flathead, phillips, hexagon, and star. the bits are made of S45C carbon steel for strength and durability, and up to six bits can be packed in series into the Tool Pen's beautiful, aluminum hexagonal barrel.
each bit sports a hexagonal body which is clearly marked with its corresponding type and size. the information on these bits can be viewed through tiny windows built into the Tool Pen barrel. the handy tool rounds up with a 'pen cap', which attaches to the pen barrel magnetically, keeping the load and ready bit from piercing your bag or pocket. as you might have expected, using the tool is much like using the pop-a-point pencil. simply extract the first bit and use it to push the next in line out. keep doing it until the bit of your choice appears and that's that. it so simple that we bet even pre-school kids can handle it, well, at least for the popping of bits part.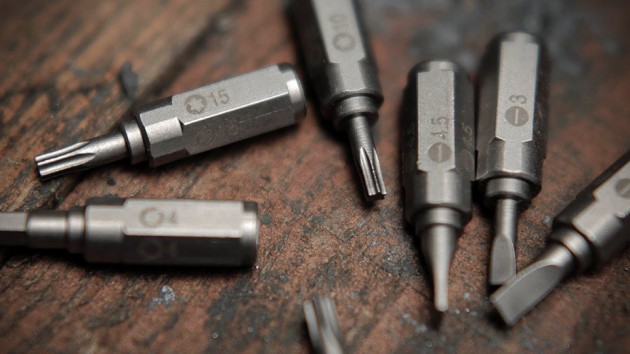 Tool Pen's unique design goes beyond being functional; it also injects a little fun and possibly, invoking some fond childhood memories, as you are using it. now, not many tools in the market can actually make this claim, can they? as far as we know, the Tool Pen is the first. kudos to Taipei-based outfit, mininch for coming with this brilliant idea. if you find yourself relying on screwdrivers quite a bit (pun not intended), then the Tool Pen is the must-have multi-tool for you. you can pre-order yours now from Kickstarter for $45 and up. support for this product is, not surprisingly, overwhelming. as of now, it has racked in over $120K in financial support with more than 2,000 backers behind it, and it has well over a month to go on Kickstarter. keep going for a product video.