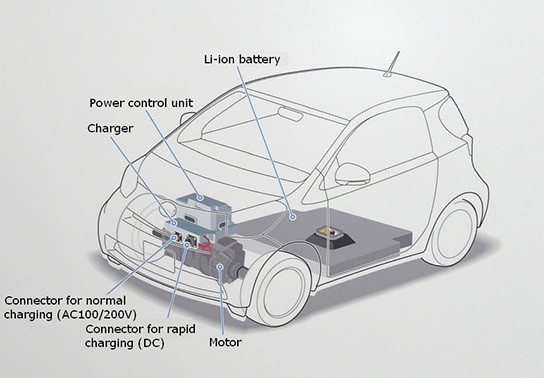 (image credit: Toyota)
at the recent Eco-Products 2010, Toyota Motor Corp showcased a prototype electric vehicle (EV) based on its iQ mini car. powering the four-seater iQ electric vehicle is an electric motor producing 47kW and 163Nm of torque. pretty decent torque level for an electric car, not to mention for such a petite car. the maximum speed of the iQ electric vehicle is 125 km/h and it will take 14 seconds for it to reach 100 km/h mark from stand still.
[ad#Google Adsense-text-468×60]
as for the power pack, the iQ EV uses the 11kWh lithium-ion (Li-ion) rechargeable battery located on the floor of the EV. range is always the concern whenever it comes to an EV, and the iQ EV does not boost on this department but rather the iQ EV is more suited for "short distance driving" with a range of about 100km per charge. under normal charging, 10 hours will be required to charged up the car with an AC100V outlet and 4 hours if using an AC200V outlet.
however, with CHAdeMO charging standards, which is sort of a quick charge system, it is possible to charged up the EV to 80% capacity in just 15 minutes. both connectors for normal and quick charge are located upfront of the vehicle. the electric iQ is expected to be mass produced and launch in the Japanese, US and European markets in 2012.
it certainly makes sense to base an electric vehicle on a current platform, which certainly helps to reduce the cost of research and development, and not to mention lowering the production cost. with these factors, we should be able to see a more 'affordable' electric vehicle. but how much will the consumers be enticed in purchasing a, by then, old looking design will remain to be seen.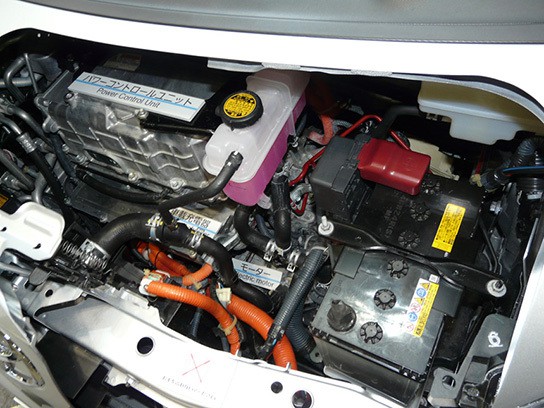 (image credit: Toyota)
via TechOn!