two-wheel drive motorcycle is rare, but not new. however, the Russian Taurus 2×2 All-Terrain Motorcycle is on a league of its own. the two-wheel drive system coupled with super chunky tires allows it to transverse across the toughest terrain imaginable, going where four-wheel drive vehicles can't but even if it can't, its mere 47 to 74 kilograms of weight means it is lightweight enough to be picked up and carry over, or at least drag, to where you want to go. don't believe? catch the video after the break and see it for yourself. there are two models planned: a 2×2 Taurus 2, which is the lightweight version fitted with low-pressure tires, and a 2×2 Taurus 2m, which is a heavier and more powerful model, fitted with serious off-road rubbers.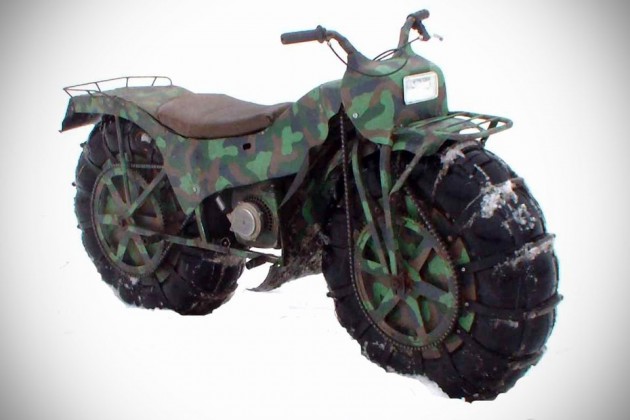 both rides share several key features which includes a 3-speed transmission, brake disc on intermediate shaft (as opposed to regular disc brakes on each wheel), 1.2 liters per hour fuel economy, a top speed of 60 km/h (37 mph) and a 55-degree turning angle. both bike is 'foldable', but well, they aren't foldable per say. the bike can be easily disassembled into smaller parts and fit into two specially made bags for easy storage and transportation. with the exception of ridiculously tiny car like the Smart, those two bags should fit into the smallest of cars. the lighter of the two, the model 2, weighs in at between 47 and 50 kilograms, which makes it light enough to handle muddy ground with ease, while the model 2m tips the scale at between 72 and 74 kilograms. the heavier weight is probably due to a more powerful four-stroke engine and the full-fledge off-road tires which measures 220mm wide and 650mm in diameter.
apparently, the Taurus is still in production concept stage, but the good news is, it will eventually be made available as DIY kits. it will carry with it a starting price of 35,000 Russian Rubles (about US$980) when it finally becomes available. according to the website, the company has up to four rides planned, including a four-wheeled motorcycle in the pipeline. keep going to see the bike in action.