One can hardly consider submarine 'sporty', but Dutch submersible maker U-Boat Worx begs to differ. Their newest entrant, the U-Boat Worx HD Sport Sub 2, is a 2-person submersible which the company bills as the "subsea-Ferrari". Well, it is not going to rocket you to 55 knots in seconds like a Ferrari per se, but it does look the part and boast some serious maneuverability, thanks to the six brushless DC motor-powered thrusters comprising of two 2.7W horizontal thrusters and four 2.7 kW vertical vectoring thrusters and an ultra low profile of just 136cm (53 inches). The electric motors are kept juiced by a 21.6 kWh lithium-ion battery system, affording you up to 6 hours of underwater escapade from a 4-hour charge.
Performance-wise, it tops out a 3 knots (3.5 mph) on the surface and 2 knots (2.3 mph) underwater, and is has a depth rating of 100 meters (330 feet). Not exactly a speed demon when it comes to speed, but its a sub and why should you be moving any faster when breathtaking views are what most of us are after? In any case, it could be a tad faster – if you upgrade the horizontal thrusters to 5.5 kW, which will then afford the watercraft a slightly speedier 5 and 3 knots on the surface and underwater, respectively. The real kicker here is obviously is the size. It is super compact, measuring just 285 x 235 x 136 cm (9′ 7/20 x 7′ 7/10 x 4′ 23/50) and tips the scale at just 2,200 kilograms or 4,850 lbs. To put things in perspective, a 2015 Smart Fortwo is 269cm long, 156cm width and 154cm tall, which means this vehicle is not very much bigger than a super compact, thus making it easy to be towed and even fits onboard any superyacht of size 30 meters and up.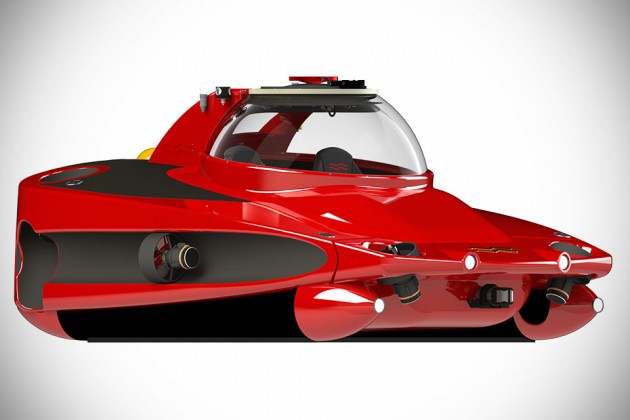 It also boast multiple lifting arrangement which allows it to be hoist with existing cranes for easy launch and recovery. Other highlights include an acrylic and steel pressure hull design, a fly-by wire system with dual-joystick controller that allows everyone onboard to take control, air-conditioned environment, underwater comms system, depth sounder, touchscreen interface, imagining sonar, underwater lights (of course), navigation system, plus a host of sensors, safety and monitoring system to ensure a safe adventure. Now, the good news for all the richie rich out there: the U-Boat Worx HD Sport Sub 2 is available for pre-order now with an asking price of $1,350,000, but don't expect to be flying underwater until Autumn 2015 when it is scheduled to be delivered.