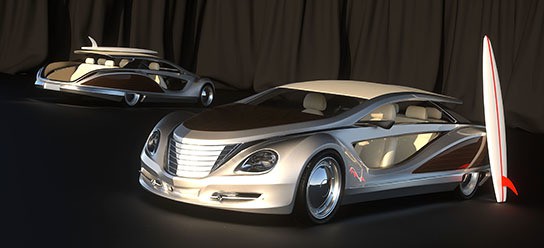 (image credit: Gray Design) Strand Craft Limousine Beach Cruiser | US$tbc(concept) | graydesign.se
beach goers who has huge pockets will likely to be disappointed that their limousines do not fit the beach mood. for these folks, Gray Design has a solution for them, in the form of the Strand Craft Limousine Beach Cruiser. a concept limousine that is designed for you to hit the beach and back to your hotel or private residence. it is more geared towards hotel chains that "want to offer their clients premium service" but then again, if this becomes a reality (which i think it would), there's no stopping you from getting one if your bank account is bursting with cash.
[ad#Google Adsense-text-468×60]
the exquisitely designed automobile features a canvas roof and much openings to maximize "visibility in sun soaked regions." i hope they are not referring to Dubai or something which in that case, it wouldn't be sun soaked but sun burning. the longish, low lines has an unmistakably sporty look while the chromed hubcaps, removable canvas roof and wooden inlays reminiscent of the glorious yesteryears (think heydays of Woodstock).
at the heart of this gorgeous vehicle is a 6.0-liter V8 engine that puts out 400 horses and 542 Nm of torque to all four wheels. the designer put the performance figures to be a 220 km/h top speed and a century sprint in just 4.5 seconds. if need to rush to beach for whatever reasons, this is the vehicle to do so with.
the interior is also luxurious appointed with Alcantara leather accented with brushed aluminum and chrome. the luxurious setting is further emphasized by the onboard clockwork in the instrument panel from Breitling and trim details accentuated with crystals from Swarovski. you may think such an open vehicle, sound may be compromised. perhaps it would but i guess not if you have a Naim sound system with 1100 watts amplifier that delivers the quality sound to up to fifteen speakers.
it all sounds good. all you folks (i mean, the rich ones) have to do is to wait for Strand Craft to start taking orders. in the mean time, please do take time to explore a few more beautiful images of the Strand Craft Limousine Beach Cruiser below.
via Gray Design