well, you heard that it is coming and now it is official. the inaugural "Vertu for Bentley" handset to emerge from the Crewe-based luxury automaker and Vertu five-year partnership is available in select Vertu boutiques worldwide in October, starting at $17,100. powered by a Qualcomm Snapdragon 801 chip with 2.3GHz quad-core processor, this luxury Android device sports a 4.7-inch Full HD display touting 473ppi and comes standard with sapphire crystal for added protection, just like many of Vertu's luxe handsets. for the spec-obsessed (who reading this isn't anyway?), rest assure that the spec list is anything but shabby.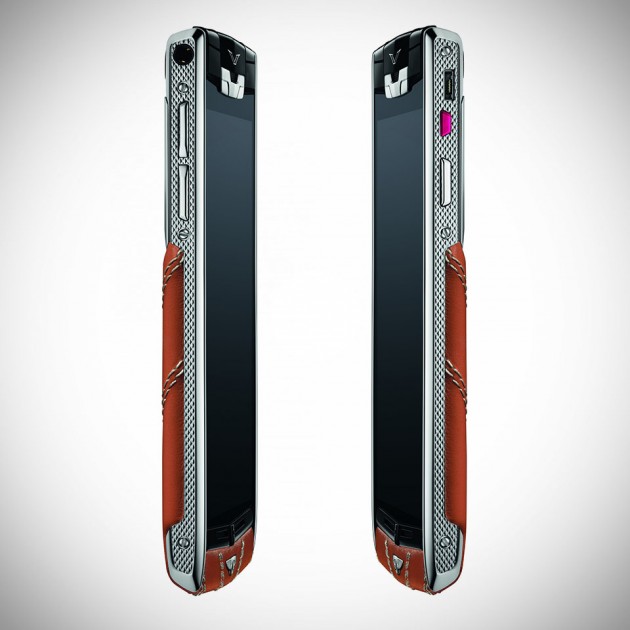 kicking off with a 13MP rear-facing camera with autofocus and twin LED flash, a 2.1MP Skype compliant front-facing item, 64GB onboard storage, a 2,275 mAh lithium-ion battery with up to 15.5 hours of talkative and up to 380 hours of standby time (that's over 15 days, if anyone's counting), quadband GSM with HSPA+ support, LTE radios with quite a generous band coverage, supports LTE FDD Cat 4 for up to 150Mbps downlink (and up to 50Mbps uplink), plus the usual suite of connectivity and sensors you expect of any modern day smartphone. other notables include NFC, Qi wireless charging, CSR aptX, and stereo hi-fi offered by 11mm by 15mm loudspeakers (tuned in collaboration with Bang & Olufsen) with Dolby Digital Plus surround sound.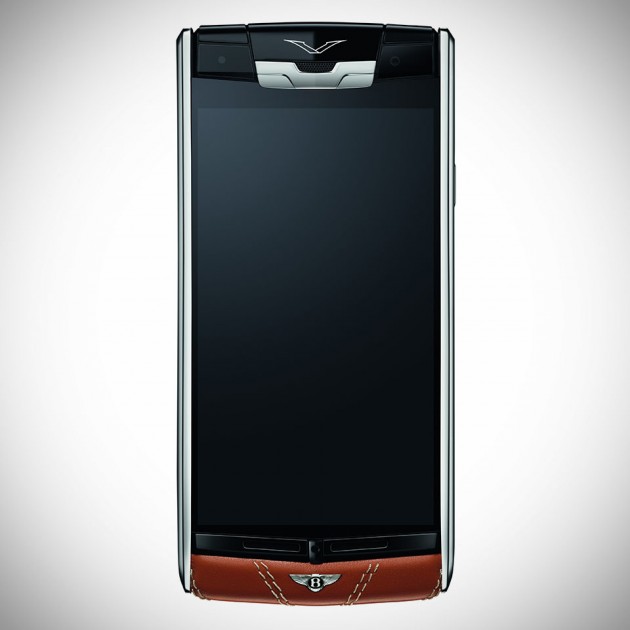 now that we have the long list of spec out of the way, lets take a look at the luxury side of things that makes the $17,100 handset. classic Bentley shade of Newmarket Tan stitched, quilted calf leather dominates the device, save for the front which is cover almost in its entirety by the sapphire crystal-covered display. the supple leather back is punctuated by a titanium plate decorated with engine-turned pattern, which can also be found on the side rails. the titanium backplate opens to reveal the engraved signature of the craftsman responsible for the phone from start to finish. up front where a tiny portion of the leather exists, is where you will find a discrete, metal Bentley 'B; wings motif, which is about the only hint of the partnership found on the handset.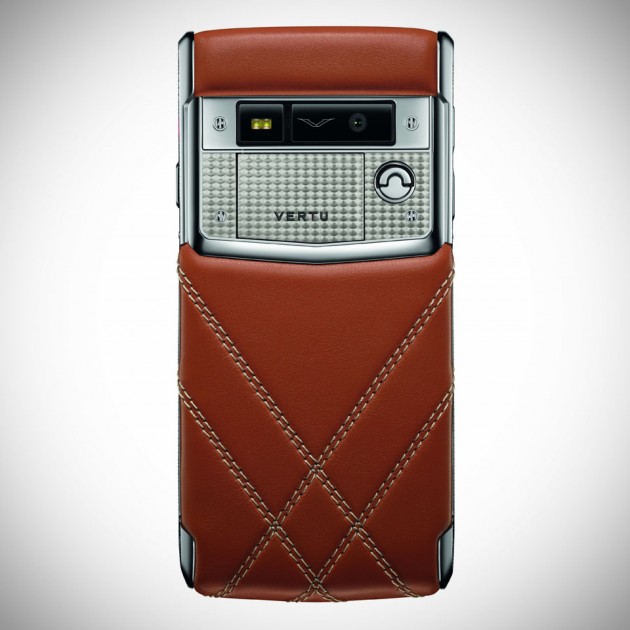 finally, a compelimentary slip case embossed with the Bentley logo rounds up the tangible luxe touches. as with all Vertu's devices, your acquisition of the Vertu for Bentley smartphone also opens you to a series of exclusive services, including Vertu Concierge, Vertu Life, Vertu Certainty, plus a unique Vertu for Bentley app offering exclusive Bentley content straight to the device. obviously, this is a gadget reserved for the elite, but even money can't guarantee you one cos' only 2,000 pieces up for grab. so, not only you need to be rich, you need to be fast too.