whether you are an avid boxer or a fitness enthusiast, the Virtual KnockOut Boxing Trainer will provide you with the training and fitness routines you crave while injecting a wee bit of fun into it. the best part about the Virtual KnockOut Boxing Trainer is, you get to knock the virtual targets and not running the risk of being knocked out yourself. how cool is that? there are two parts to the Virtual KnockOut Boxing Trainer: the first is the Virtual KnockOut app (available for both Android and iOS devices) which is essentially a virtual boxing game that anyone of all ages can have a go and the second part to the setup is the hardware complete with integrated mitts as the punching targets.
built from elliptical tubing, the hardware features leveling feet, adjustable height, a tablet holder and dual-action springs mitts. each mitts has built-in accelerometer to measures the accuracy, as well as the power of the throw which the app will score them accordingly. the tablet, which may or may not be included depending on the package, connects to the trainer via Bluetooth, while the app serves up mitts along 3D paths and all you have to do is to punch on the mitts when they lands on the specified target area. it is a bit like Tap Tap Revenge, but it does so with punches over fingers, well, that's if you use the app with the trainer. obviously, if you are working on the app without the machine, you will be using your fingers. so don't go around punching your precious tablet cos' it ain't going to work. man, this could be the next best thing since Wii Sports.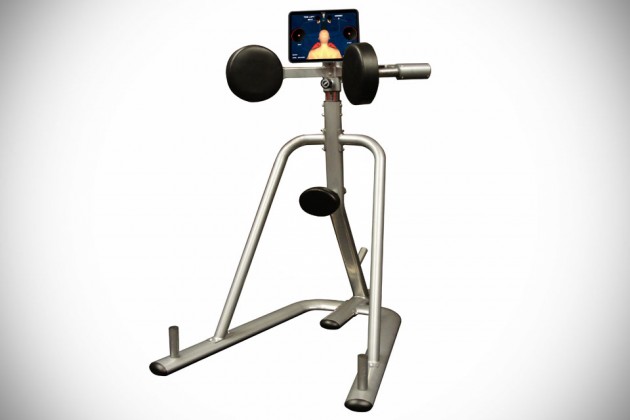 like all games or trainers, things will get progressively intense as you proceed through the routine. the Virtual KnockOut Boxing Trainer is currently on Kickstarter seeking financial backing from like-minded folks and so, if you want to see this on the market, you can show your support by pre-ordering one. prices start at $299 for a wall-mounted version and $649 for the floor standing model. however, a complete setup with a 15-inch Android tablet which the company refers to as the Studio model will set you back at $1,199. check out a pitch after the fold to learn more.
a big thanks to Pete for dropping us the hat tip!