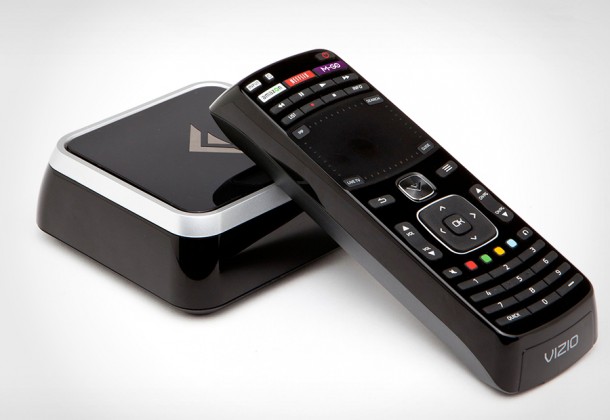 Vizio Co-Star Stream Player | US$99.99 | www.vizio.com
smart TVs are commonplace today but if you are still holding on to your not-so-smart TV, not all hope are lost. thanks to product like Vizio Co-Star Stream Player, you can turn your regular HDTV into a smart TV. granted, this idea is not new but the Co-Star offers a few interesting features that might actually let it stand out from the competition. powered by the latest version of Google TV, the Co-Star opens you to the world of apps and full-screen web browsing experience via Google Chrome browser with support for Adobe Flash Player and HTML 5. on top of that, it lets you connect your cable or satellite set top box to it, and its picture-in-picture technology allows you to enjoy the live TV along with the web, apps, and other streaming entertainment without interrupting what you are already watching.
apart from accessing the now-regular apps such as Netflix, Amazon Instant Video, M-Go, YouTube and the likes, the Co-Star also offers video games on demand through OnLive Game Service, which means you can have your fix for gaming without the need for a dedicated game console. if those weren't enough, users can access to even more apps through Google Play for their fix for everything else. other features include support for full HD 1080p and 3D entertainment, built-in WiFi, integrated USB port for hooking up with external drives, keyboards and other peripherals, and access to digital contents from any DLNA-enabled devices. the Co-Star comes with a universal Bluetooth remote that features a touchpad (just like those you will find on a laptop) for ease of navigation and a full QWERTY keyboard for quick input of search terms. honestly, it is the remote that we drool over more. if you have tried using the on-screen keyboard, you will know exactly what we meant. a remote integrated with a touchpad and QWERTY are long overdue. we certainly hope it becomes a standard and yes, we prefer BT over infrared for obvious reasons.
the VISIO Co-Star Stream Player will be available for pre-order next month with a sticker of $99.99.