Amazon has been trying all ways and means to get you to shop on their virtual superstore and their latest effort, since the last grocery-shopping helper Dash, is this device called Amazon Echo, which is basically a handy digital assistant/butler that also doubles as a wireless speaker. Wait, or is it the other way round? We don't know. From what we see, Echo is an entirely new product category of its own. It essentially pulls the concept from the likes of Google Now and Siri and pack it into a speaker, that will not only stream music from Amazon directly, or plays them from devices connected via Bluetooth, but also, expectedly, answer virtually anything you ask it via speech. Instead of "Okay, Google" or "Siri", the "wake word" to trigger this always-on device to begin answering your queries is "Alexa". Alexa is, btw, a web traffic data company acquired by Amazon way back in 1999, but just why the word "Alexa" chosen is still unclear. Clearer dictation, perhaps?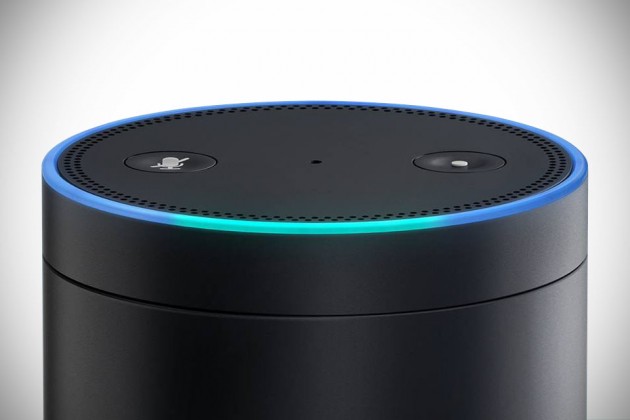 Apparently, you can speak normally to Echo from anywhere in the room without having to scream, thanks to what Amazon refer to as far-field voice recognition technology. Under Echo's light ring on top of the device, there is an array of seven microphones that use beam-forming technology to pick up sound from any direction, even when it is blasting out music. In addition to weather and news, it can also pull information from Wikipedia to answer to your questions, spell, define and more. It can set alarms, timers and even create shopping and to-do lists – all done through voice without you lifting a finger. And like all smart devices of today, Echo is a learning gadget. It is cloud-based and as you use it, it will adapt to your speech patterns, vocabulary, and also your personal preferences, though we're are not how it is going to play out with multiple members in a family.
For those who are more keen in its speaker ability, it packs two downward-firing speakers comprising of a 2″ tweeter and a 2.5″ woofer to produce a 360-degree omni-directional audio. While the shopping list feature is an obvious move towards Dash's concept, it is not specifically addressed by this device yet, but there is no doubt that in time to come, future shoppers will be able to do so without even clicking anything. However, before you start barking at Echo, you need to put down $199 for it, or $99 for Prime members, first but there is a catch here: it is not for any Tom, Dick and Harry, at least not for now. The purchase of Echo is by invitation only, which you can forward your request on Amazon. Scroll down for an "Amazon-usual" product video.