Until now, smartwatch has been a tech-centric piece, which means most people would not even consider it as a designer piece, much less a luxury one. Well, not if fashion designer Michael Bastian can help it. A few months ago, we briefly touched on the news about Michael Bastian partnership with Gilt and HP to developed a smartwatch and today, that much anticipated collaboration is finally available and it has an official name too, called MB Chronowing. Two models are being offered now through Gilt: a 44mm MB Chronowing smartwatch and a MB Chronowing Limited Edition Black smartwatch, also sporting a 44mm case. On the smartwatch functionality aspect, they are not going to differ much from other smartwatches, which means you get functionality like pushed notifications, ranging from email to calendar to stock update.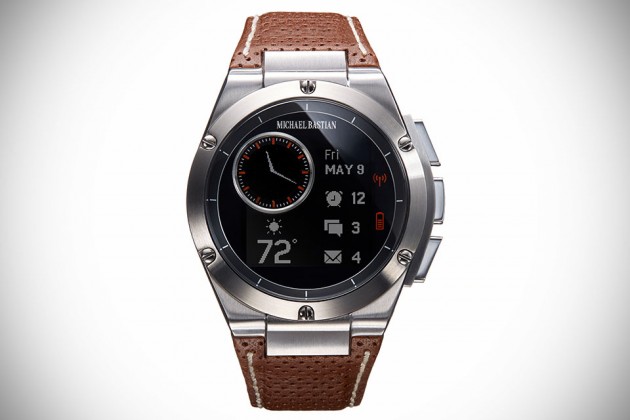 Both models have identical smartwatch and watch functions, including black dial with applied metal sub-dial ring for at-a-glance viewing, water resistant up to 5ATM (164 ft or 50m), automatically syncs to domestic/international time zone, and ten unique control modes: dashboard, calendar, messages, email, world time, weather, stock, sports, music, and stopwatch. The watch also boast customizable notifications, done using a MB Chronowing app, to suit your needs so you only see what you want to see. And did we mention that it is totally cross-platform compatible with both iPhone (4 or newer) and Android devices (OS 4.3+)? The MB Chronowing is designed from the ground up with a fashion-first approach and so it actually looks more like a timepiece than a smartwatch which we are pretty it will find a place on your wrist for both casual and formal events.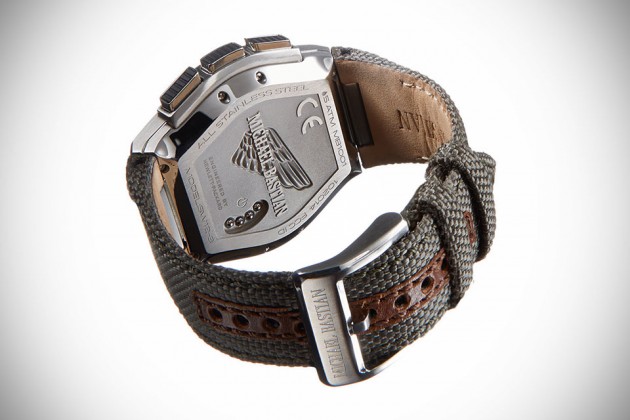 Unfortunately, despite it having a round watch face, its display isn't a round display. Instead, the watches are fitted with a square, backlit 128×128 display for readability under sunlight or in the dark. You can't really tell from the product images, but if you look at the video below, you can actually see the distinction between the display and the rest of the dial face. No biggie, but we thought it will nice (and truly sleek and futuristic) if you could have something like LG's. Anywho, the watch has a built-in battery that last up to 7 days and rechargeable with any USB port using the included magnetic USB charger. Setting the two models apart are the design and finishes. The MB Chronowing comes clad in a multi-layered finish stainless steel case, mineral hardened crystal with anti-glare coating, and comes supplied with three interchangeable straps, while the limited edition model gets an all-black PVD plated stainless steel case, scratch-resistant sapphire crystal and genuine black alligator strap with stainless steel butterfly deployment clasp.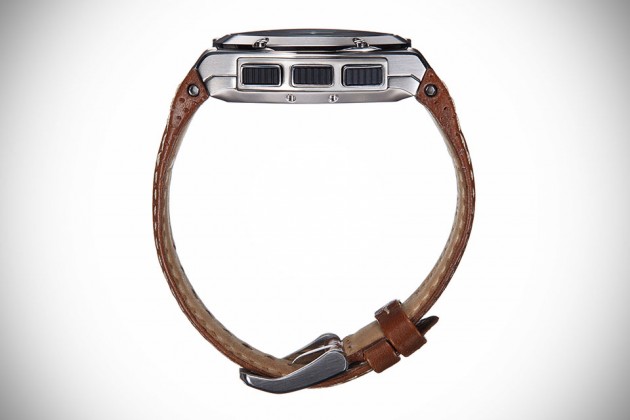 Both smart timepieces feature a beautiful, solid caseback minted with Michael Bastian emblem and comes with a leather watchcase with plush velvet interior (brown for the standard model, black for the limited edition item). The limited edition comes with some extras, including an authenticity card, hand signed and numbered by Michael Bastian and access to dedicated concierge line with special tech support. Also, each watch comes with a one-year warranty by HP. Michael Bastian MB Chronowing Smartwatch by HP is available exclusively on Gilt, priced at $349 for the standard model and $649 for the Limited Edition Black model. It is worthy to note that the latter only has 300 units to go around. Check out the man himself introducing the smartwatch in the video below.