Volkswagen is probably going to shock the world at this year's Paris Motor Show. how? with this Audi R8 lookalike that's powered by, wait for this… a modified V2 sourced from the new Ducati 1199 Superleggera called XL Sport. described as a highly efficient sports car concept, the XL Sport's spritely, high-revving engine (it revs up to 11,000 rpm, btw) compact motor has a healthy 200PS (197 hp) and 99 lb-ft (134 Nm) on the tap and is mated to a seven-speed DSG that lets it rockets from standstill to 62 mph (100 km/h) in just 5.7 seconds, sending it on its way to a fairly impressive top speed of 168 mph (270 km/h). the V2 engine also benefits from Ducati's desmodromic valve controls system, four-valve per cylinder and two injectors per cylinder.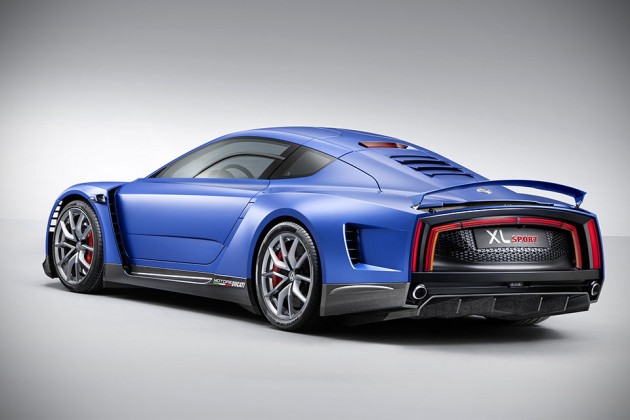 while the aesthetic may appear to be a lazy work of ripping off its sister marque's R8 with a little of the XL1's spirit in it, but upon closer inspection, you will notice that this little guy does have purposeful aerodynamics built into it which includes special air curtains, wheel arch air outlets, an optimized underbody, a diffuser to reduce aero-lift and adaptive exhaust heat vents integrated to the rear lid. additionally, it has a completely new underpinning with a high-strength steel spaceframe and consisting front suspension in pull rod configuration and pushrod rear suspension. it rides on 18-inch 18-inch forged magnesium-alloy wheels wrapped in 205/40 R18 and 265/35 R18 high-performances rubbers and has ceramic brakes for stopping power.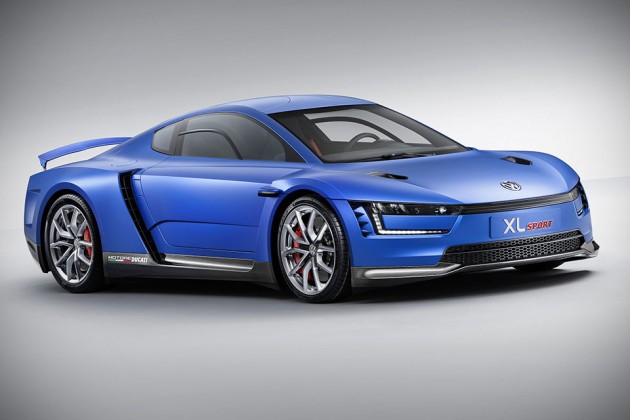 major weight saving contributor is probably the body, where carbon fiber reinforce plastic panels are chosen over traditional steel materials. that, along with generous use of magnesium-alloy components in areas like alloy clutch, cylinder head, oil pan covers, and titanium push rods, result in an incredible lightweight of just 1,962 lbs or 890 kilograms. its wing doors swing up and forward to reveal a XL1-based interior, but one that's gear towards motorsports with features like digital instrument cluster with individual lap time and oil pressure info, a flat carbon cowl that stretches across the top of the instrument cluster to eliminate reflections, steering wheel with red stitching, aluminum paddle shifter, and anodized aluminum accents.
and oh it has polycarbonate windows and special type of thing glass for windscreens to help to keep the weight down further. the Volkswagen XL Sport looks like a superlative concept which may never see the light of production, but as motoring enthusiasts, we are keeping our fingers crossed. in the mean time, it will be showing off its stuff at the Paris Motor Show, which will be throwing its doors later today (officially 4th, but press and special events start a little earlier which is habitual for trade shows like this). keep going for a few more delightful images.