after teasing the world with an image or two, Nissan's luxury arm Infiniti has finally put out more images and details on the Q80 luxury sedan which marks Infiniti's first foray into the premium sedan category. aesthetically, the Q80 looks like something you would see in sci-fi flicks, thanks in part to the shimmering silver paintwork, but yet so 'doable' in today's context. in fact, Q80's bold design is also a hint of the future design language for the luxury marque. it comes in a four-door fastback form and stretches 5,060mm or 199.2 inches long and 2,010mm or 79.1 inches wide. under the hood, it boast a 550 horsepower "downsized" twin-turbo 3.0-liter V6 and hybrid electric powertrain with an undisclosed output – a combination that Infiniti claims a fuel efficiency in the region of 42.8 mpg (5.5L per 100km) and with CO2 emissions of around 129g/km.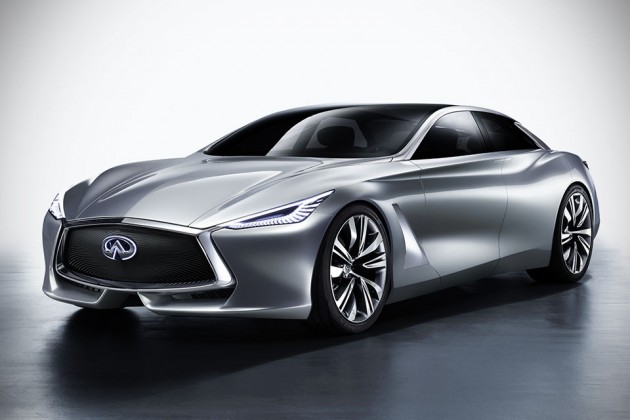 but hybrid drivetrain is not the only thing Infiniti has to shout about; it has something called 'smart drivetrain' that, conceptually, allows the ride to switch from rear wheel drive to all-wheel drive on the fly, or as "condition dictates." the Q80 is loaded with tech, boasting autonomous driving technology that aims not to take over the chore of driving but to enhance the driving experience. Infiniti is clear that their direction is not to take the brand into the area of self-driving vehicles, well, at least not yet. the autonomous driving here is a sophisticated system drawing information and data from the array of cameras, lasers and sensors to enable the car to give recommended actions through tonal notifications and HUD display on the windscreen, leaving the driver with the decision making process. in a way, the system won't make the driver feels detached from the vehicle, we suppose. though the Q80 is referred to as a concept, "there is a production intent associated with it" said Francois Bancon, Infiniti Vice President of Product Strategy.
Infiniti have had turned concept into reality before, and the Q80 might very well be another. the only question is: when? our bet is, in a couple of years time.