There are a few ways that will ensure you will not lose or forget your wallet. The crudest of all would be hooking it up to a band, connected to your pants or belt, and the high tech way involves sticking a Bluetooth tracker to track it. So, it seems like this pesky issue has been addressed, but can either way ensures the contents, say your credit card, won't be left behind after signing the check? Nope, but Walli can. Honestly, we are equally amazed that it could. Walli is a smart wallet unlike no other. It negates the need for sticker tracker cos' the entire wallet is a gadget that, when paired with your smartphone, maintain the link between the two with an invisible chain.
Like many such tracking device, the wallet will alert you via the paired smartphone if you stray too far away from it and on the other hand, double tapping the wallet triggers your phone to ring so you can locate your phone easily. In addition to those two 'standard issue' features, Walli up the game by making the inside pockets smart too. Using a patent-pending technology, Walli is able to send signal to your phone if your credit card or ID is not in the pocket for a long time. The time is dictate by you, which you can set in the companion app.
Let's face it, besides losing wallet, cards are the next most likely things to be lost by anyone and so, with Walli's intelligent pocket, it could save you tons of hassle. Sure, you can stick an adhesive tracker on the card, but that's provided you do not intend to use it to draw money anymore. You choice. Walli talks to your phone via Bluetooth LE, which allows it to be powered by a single disposal cell battery, lasting up to 6 months. And then there is the in-built RFID protection, which means sneaky, high-tech criminals won't be able to rip your card information wirelessly.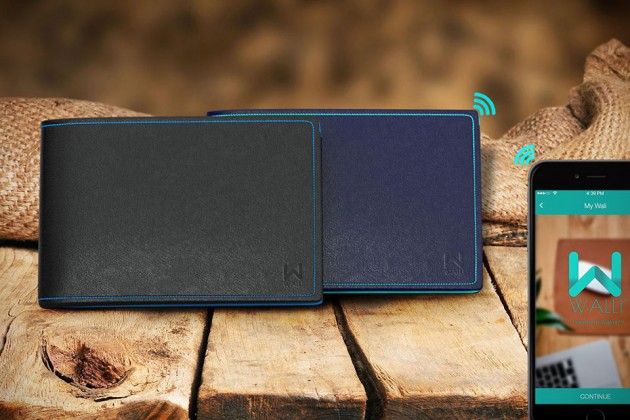 As a wallet, Walli comes with six card slots, three horizontal and three vertical, a bill fold, and it is crafted from genuine leather. Want one. You can pick up one as a pre-order over at Indiegogo for as low as $79, with delivery slated to happen sometime in February 2016. Go ahead and check out the product pitch video to learn more.