The first recorded history of wrist watch being worn was 1571, but it was not until the 20th century when it became a norm and like many brilliant inventions, wristwatch birth was in the military, or to be more precise, during the war. Back then, men mostly use pocket watches, however, during the World War I, soldiers in the battlefield find it impractical and started securing the pocket watches to their wrist resulting in the birth of the wrist watch. The timepiece you see here may not come from big corporations, but it is a wristwatch that marks this birth and hence the name, Wristlet aka Trench Watch cos' it was where it was born: in the trenches.
This unique timepiece is handmade out of bronze case paired to brass lugs and buckles, and handcrafted, vegetable tanned Italian leather. Bronze isn't exactly a material of choice for many watchmakers due to its inherent patination, but to Crocobiner/Tsvet, this natural patina which turns the once shiny, bronze color into darker shades and eventually into patina green (think Statue of Liberty), makes quite a statement. In a way, it kind of resonant with WWI era as copper was somehow closely akin to the industrialization of 1900s.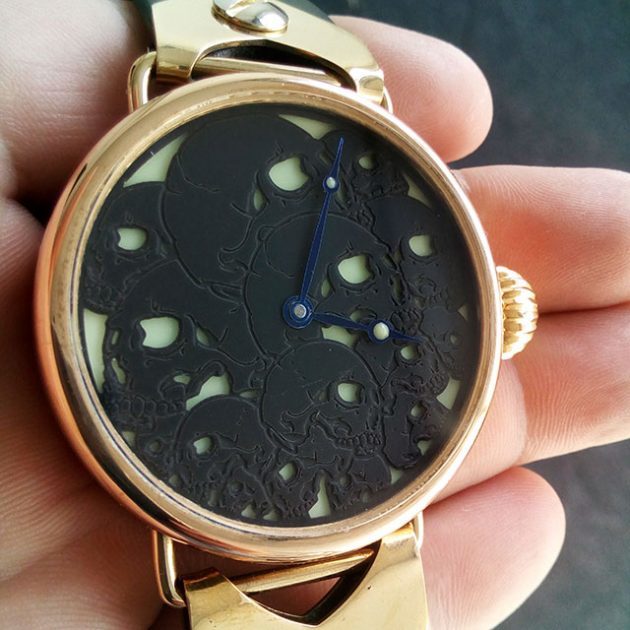 Under the hood, clockwork is driven by a clone Unitas 6497, Sea-Gull ST3600 mechanical movement, and it sports a distinctive dial design known as "sandwitch dial" that comprises of a high luminous disc and a painted, patterned stainless steel. Two patterned stainless steel designs are being offered at the time of this writing: Twin Wolves and Memento Mori. Personally, I have a thing for bronze material and it will be interesting to see how the patina turns out for Wristlet. I am guessing, it will be a transformation from a steampunk-ish look to one that's uber rustic.
Other few other details you can expect from this unique timepiece includes 50 hours power reserve, mineral glass front and back and of course, a 42mm bronze case with 22mm leather strap. Each watch is complemented by a handmade solid wooden box. If you are up for it, you can help to make Wristlet Handmade Bronze Mechanical Watch a reality by backing the product's campaign on Kickstarter. Prices range from £125-149 (around US$183-218) and if all goes as planned, i.e. it gets funded within the next 30 days, you can expect this work of art at your doorstep sometime later this year.
submitted via TIP US page.