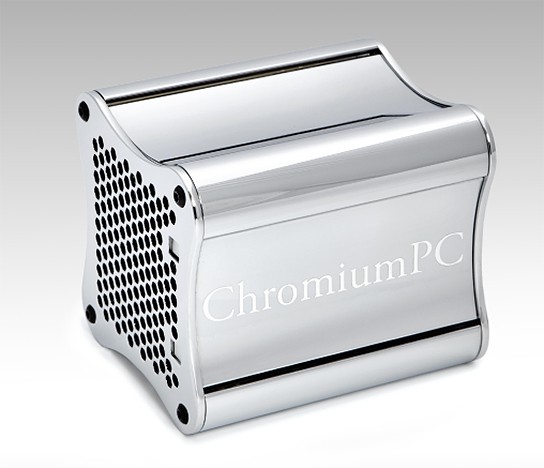 (credit: Xi3 Corporation)
back in November 2010, we featured the gorgeous Xi3 Modular Computer and now the very same company is back with the ChromiumPC, the world's first desktop computer to run Google's Chrome Operating System. based on its patented Xi3 computer architecture, the Chromium PC also sport the familiar small, cube-like form-factor with a low-power dual-core processor. development of the ChromiumPC started since 2009 and the final product is expected to be available in the second half of 2011.
[ad#Google Adsense-text-468×60]
enclosed within the aluminum chassis are three small, interconnected boards that include the processor module, the primary I/O module as well as the secondary module. the three modules work in harmony to form the PC's main board, much like your single main board in your typical PC. in this setup, the processor module contains the microprocessor and the RAM, the primary I/O module will house majority of the external communications ports, while the secondary I/O module will have the Ethernet, video and power connections.
the ChromiumPC will either be powered by a dual- or single-core 64-bit, x86 processor, enclosed in an aluminum chassis measuring just 4″ x 3.66″ x 3.66″. it will be available in a variety of colors, including a chrome-plated chassis which i thought was very befitting for a PC that runs the Chrome OS. the pricing and further specifications will be announced later this year with "formal sales" to begin on July 4, 2011.
aside from the recent news on the Chromebooks, this is probably the next big news to be heard so far. with the introduction of Chrome OS, Google will officially join Microsoft and Mac OS in the mainstream OS race, in which of course, Microsoft is still the market leader with almost 90% of the market share*. Google's Android OS has performed well in the mobile arena and we are all eager to see how Google Chrome OS will perform in the desktop computing segment. i suspect it will do as well, if not better.
*source: NETMARKETSHARE
via Xi3 Corporation