The post title pretty much says it all, doesn't it? Just in case you read too much between the lines, no, this ain't a joke. It is real-deal personal flamethrower that, to our surprise, is totally legal in the United States or at least that's what we read. According to X Matter, the folks who are peddling this awesomeness, "flamethrowers are federally unregulated and not even considered a firearm by BATF (Bureau of Alcohol, Tobacco, Firearms and Explosives)" and hence, NFA tax stamps and weapons licensing are not applicable, which also means an establishment doesn't need to be a FFL dealer to sell such a device. Ok. We will just refer it as a 'device' despite the fact that it (the flamethrower) had a less glorious history of being used as a weapon in WWI.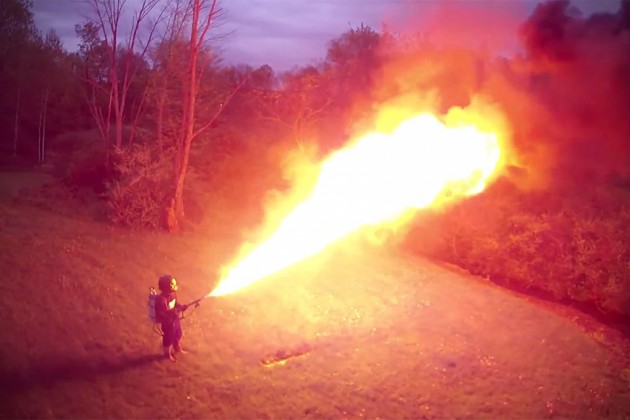 These days, you are expected to use it for other more purposeful intent other than destruction of civilization and that may include agricultural controlled burns and ground-clearing, clearing brush snow and ice, incinerating weeds and pesky insects, pyrotechnic events (see embedded video below) and lighting 4th of July bonfire as suggested by X Matter. The X15 Personal Flamethrower is rated up to 4,000 psi which enables it to spew out flames to a range of 50 feet (15.2m). Each set comes with three interchangeable wand tips for range and efficiency adjustments in accordance to your application and one refillable 200z CO2 tank. Other mentions include 3.3 gallons (12.5 litres) capacity, 4 feet high pressure hose with swivel mount, trigger start windproof torch, stainless steel run tube, cast aluminum body and brass burn tip.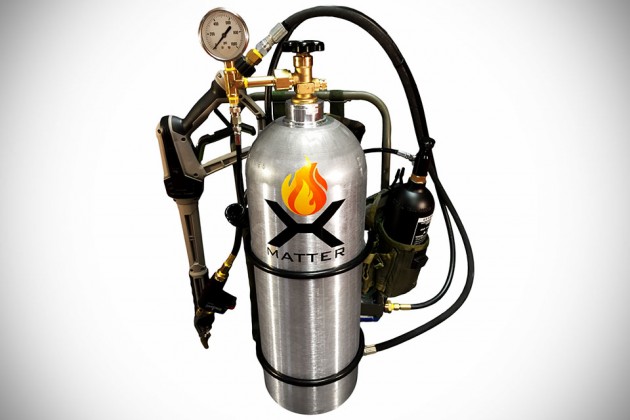 Interested? Well, the good news is, you can pick up one from X Matter web store for a cool $1,599. If that's too pricey or clunky for your need, then you may want to give the handheld version known as XM42, dreamed up by an outfit called The Ion Productions Team, a thought. The Ion Productions Team flamethrower goes for a more forgiving $699, but there's a catch here: it is an Indiegogo campaign with delivery expected to happen only in September. We shall leave it to you to decide which is the best (or none) for you. Keep going to catch videos of the X15 and XM42 in action, plus some additional images of the beautiful XM42 handheld flamethrower (it's the world's first commercially availably handheld flamethrower, btw).