gone were the days where fieldwork requires the use of laptop. with popularization of tablets that can pretty much do everything a laptop can, there's no reason to be lugging around a hefty device, more so if the tablet is ruggedized. if you or your company is in the market for toughen up tablets, Xplore's new offering Bobcat Full-rugged Windows Tablet might be worthy of a look. of course, it ain't going to be cheap, but we will come to that later. being in the business since 1998, Xplore Technologies sure knows a thing or two about toughening up tablets and with the Bobcat, you will get the peace of mind knowing that it is shielded against the elements – thanks to its MIL-STD-810G certification and IP65 rating. this means the Bobcat is protected against typical threats such as water, sand, dust and is built to withstand shocks and drops (up to five-foot drops), and doing all those while looking pretty sleek.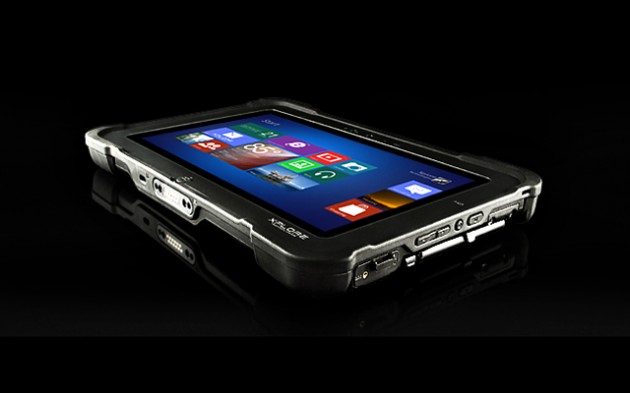 underneath the skin is an 1.91GHz Intel quad-core processor with an integrated Mobile Gen7 GPU, along with 4GB of DDR3L 1333 RAM and a 128GB SSD for internal storage. preloaded with full-fledged Windows OS (Windows 8.1 Pro or Windows 7 Pro, your choice), the Bobcat full-rugged Windows tablet is ready to integrate with existing software and equipment, therefore putting it on par with a regular laptop, san the heft. it is fitted with a direct bonded 10.1″ HD IPS display providing 500 nits of brightness and 800:1 contrast ratio, plus 10-point multitouch and boasts sunlight readability.
other details include wireless ac, optional 4G LTE, GPS, Bluetooth 4.0 technology, Ethernet port, USB 3.0 ports, microSD card slot, micro HDMI output, micro SIM card slot, audio headphone jack, built-in speakers and microphone, NFC, a 5MP rear-facing camera with flash, a front-facing 720P HD camera, a battery for up to 8 hours of usage, or up to 14 with hot-swappable external battery, plus a host of optional extras to customize the rig for your work needs. however good it sounds, it is still a commercial slate, which means it will cost quite a bit. the Xplore Bobcat Full-rugged Windows Tablet goes for $2,199 and up and is available through Xplore channel partners worldwide.