this year Polaris marks its 60th year in the business and the Minnesota-based company is celebrating with a super cool three-wheel roadster, the Polaris Slingshot. on the surface, the Slingshot may look like TORQ's roadster and Campagna T-Rex, but at its heart it is really a motorcycle and it is designed like so as with Polaris' fleet of three-wheelers. powering this topless beauty is a 2.4L DOHC ECOTEC unit, mated to a 5-speed stick shifter. it has 173 horsepower which is put to good use by a fat, rear wheel via a carbon fiber reinforced belt drive system. granted 170+ ponies is not an astounding figure in the automotive (motorcycle, included) world, but then again, it has all but 1,700 lbs (771 kilograms) to haul, which should be more than ample to get most speed junkies' adrenalin pumping. though it worthy to note that Polaris have yet to make any official claims on the performance and therefore, there is no telling if it will live up to its namesake and launch like a slingshot.
Polaris Slingshot adopts an extremely angular aesthetic with a very low center of gravity, giving the vehicle a ferocious stance. depending on the angle of view, it looks like a lot is happening in terms of design which, honestly, may not be the cuppa for everyone. enveloping Slingshot's side-by-side seating arrangement is a chassis made of tubular hight strength steel, while handling aspects are filled in by a lone lightweight aluminum rear swingarm, rack and pinion steering with electronic power assist, electronic stability and traction control, and all-round anti-lock disc brakes. the three-wheeler also boasts LED taillights, forged aluminum roll hoops, and three-point seat belt (unfortunately, no harnesses though). as mentioned, the Slingshot is essentially a three-wheeled motorcycle and thus, it does without airbags and bears no safety standards associated with automobile, and in most instances, it will require a motorcycle license to operate.
the Polaris Slingshot is offered in two trim levels. the base model, which goes for $19,999, boasts titanium metallic paint finish, 17-inch lightweight alloys upfront, and 18-inch wheel at the rear. a step up is the SL model, which commands a $23,999 price tag, features red pearl paint, larger 18-inch forged aluminum rolling stocks at the front and an enormous 20-inch in the rear. the SL also touts a few goodies, including a blade windscreen to keep wind (and bugs) off your full-face helmet, plus creature comfort like 4.3-inch LCD display, Bluetooth integration, back-up camera and a 6-speaker system. keep going for a few more images and a product introduction to see it in action.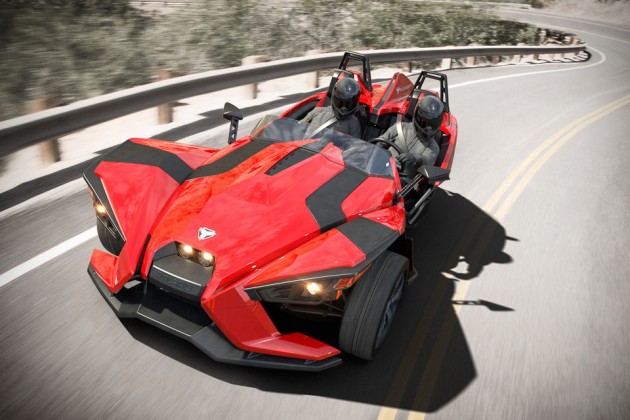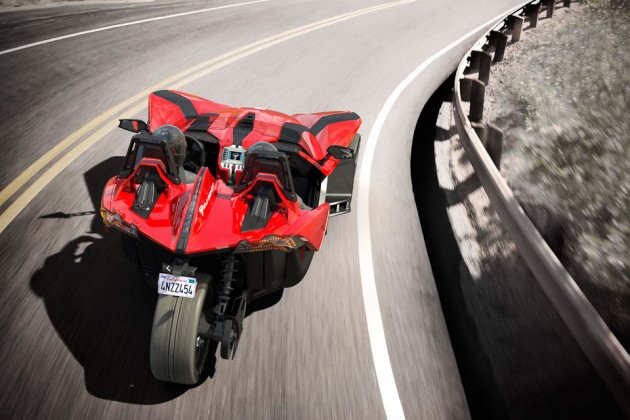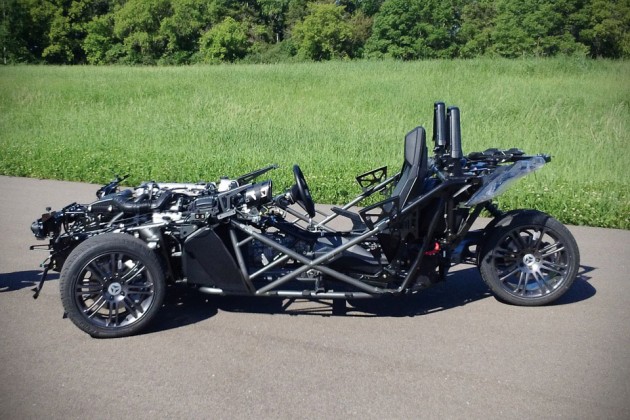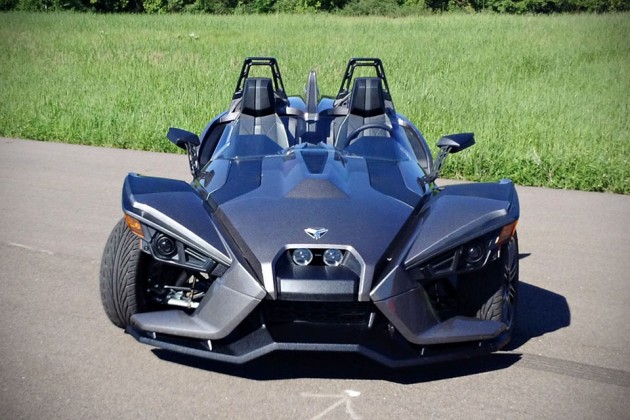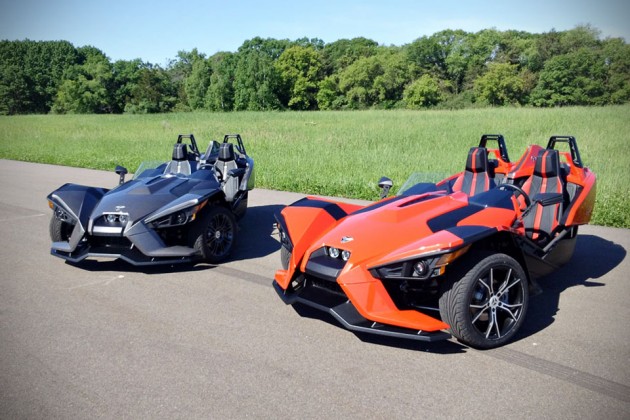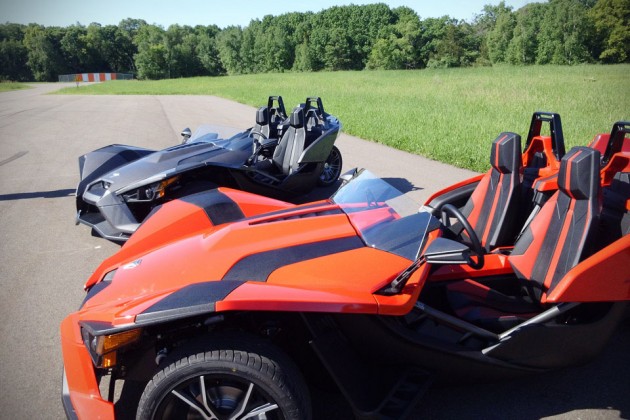 source: Polaris
via 95Octane