Good news, U.S. residents with an undying love for Italian automobile. The iconic Fiat 124, first brought to the stateside some thirty years ago, is making a comeback, but it is of course, updated to meet the demands and tastes of today's discerning consumers. Staying true to the original Fiat 124, which was first introduced to the automobile world nearly six decades ago, the 2017 Fiat 124 Spider is a two-seater, rear-wheel drive roadster that bears a striking resemblance to its forebear. Ok, maybe it is not quite a 'striking resemblance to its forebear', but rather a modern day interpretation of the old, which is in fact, lines much used by today's roadsters.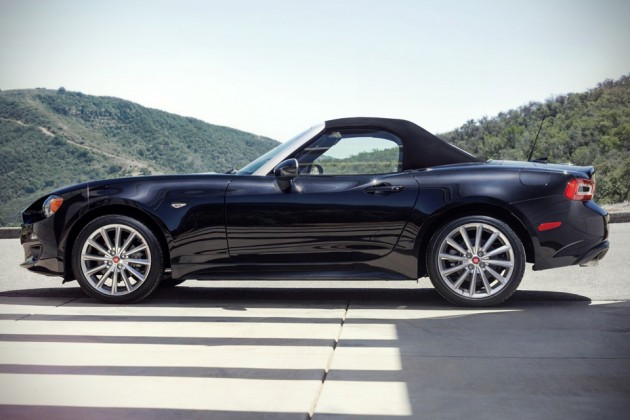 Interestingly, this model is a product of a trans-continental design effort, involving engineers and designers from Italy and the United States, which perhaps explains where it has a front end that looks suspiciously like 2000-ish Dodge Viper. Maybe it just me. Personally, I thought it would be nice if it could have the old school round headlights and had a line much closer to the original. Powering the lightweight drop top sport car is a 160 horsepower 1.4L MultiAir Turbo four-cylinder engine that turns out a beefy 184 lb-ft (250 Nm) of torque and mated to six-speed manual gearbox, while a set of antilock disc brakes with engine brake assist aid in hauling the car to a stop. No performance numbers were given though, but I guess with this ride, it isn't about numbers.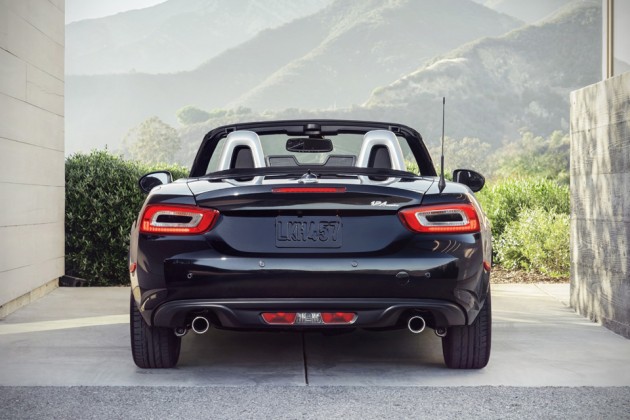 Like any model day automobile, 2017 Fiat 124 gets numerous electronic aids, including an electronic power steering, electronic locking differential, electronic stability control and traction control, and electronic brake distribution. A few other noteworthy mentions include twin exhaust pipes, halogen daytime running lamps and LED taillamp, 16-inch aluminum wheels wrapped in 195/50 R16 tires, sport pedals, tailored seats with "Italian design touches," a mix of analog and digital instrument cluster, keyless start/stop, remote keyless entry, tire pressure monitoring system and tire-specific display, leather-wrapped steering wheel, dashboard and gearshift, and Fiat Radio 3.0 with AM/FM with Bluetooth technology, paired to a six-speaker setup.
The only catch with this beautiful ride is, it does not have the luxury of a motorized top. In another word, you will have to get your ass off the comfy driver seat to manually close or drop the top. But then again, that seems like a norm for a roadster until today.
The 2017 Fiat 124 Spider Roadster was officially unveiled at the Los Angeles Auto Show and will be hitting your local showrooms next summer. For those who want a little bit of exclusivity, Fiat USA will also be offering a limited edition 124 Spider, dubbed Prima Edizione Lusso, which basically is a tad luxe up first edition of the same ride. With it, you can expect larger wheels and tires, plus some extra equipment. Prices are yet to be announced at this point.