it is a known fact that most parents get a little twitchy whenever their kids told them that they are going to get a bike, but not if the bike in question is actually a scooter – more so if the two-wheeler is a tame and harmless Vespa, or so they thought. speaking of which, the Expresso Racer Vespa could very well quell parents/girlfriends anxiety and at the same time, not sacrificing your need for adrenalin rush on the tarmac. packing some 38 horses, thanks to the introduction of an Aprilia RS125 engine, plus a bunch of works, this anything-but-tame looking, black matte finish Vespa packs an astounding 300 percent-plus power over the regular base model Vespa.
concocted by Germany-based Scooter & Service, the Aprilia RS125 was bored to 57mm and accompanied by a 54mm stroke Mazzucchelli crank, 35mm PWK Keihin carburetor and topped off with S&S's TÜV-compliant custom made performance exhaust to achieve the lustrous ponies while a Malossi/Bitubo shock setup takes care of the handling, and a fully hydraulic 4-pod brakes at the rear, paired to S&S custom disc up front provides the power necessary to haul the small frame Vespa to a stop. other highlights include digital instrumentation, chrome detailing, braided hoses, perforated front fender for drawing air to feed the radiator, a single Cafe Racer style seat and finally, 4-inch and 3-inch fat tires for the rear and front, respectively.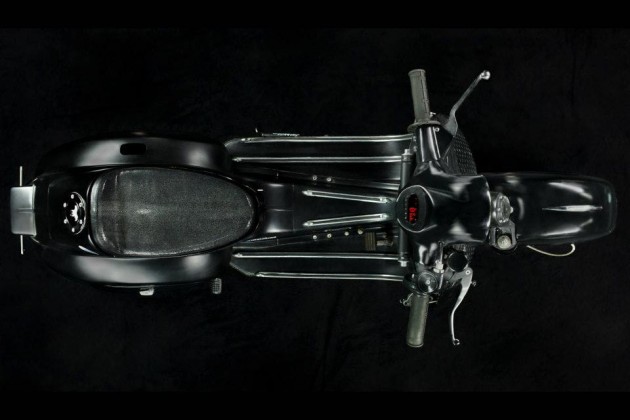 we are not sure how heavy this tricked out, bad-ass Vespa weights. however, assuming it has around 200 lbs on it, then you are looking at a seriously insane scooter that pulls a good 5.3 lbs per hp. well, that's one heck of a scooter if you ask us. if you haven't fall in love with a scooter yet, we are sure this one is going to steal your heart. no word if this stupendously awesome Vespa will be on sale cos' this scooter is supposedly still work-in-progress and has a scheduled completion date in Spring 2014. in the meantime, we would like to invite you to scrutinize the beauty further with the images posted here.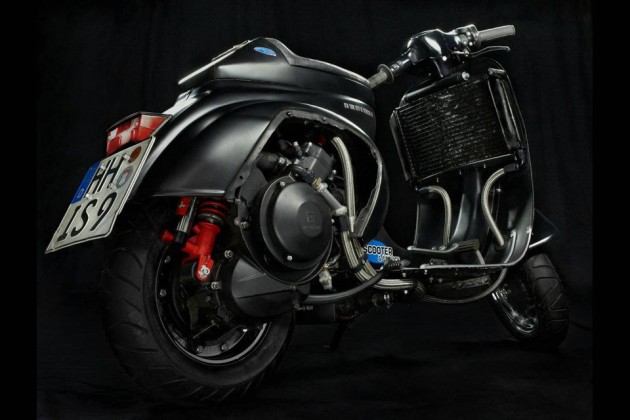 Scooter & Service via Jalopnik/GAS 2 via Return of the Carfe Racers